Philadelphia Audience Enjoys Chinese New Year Spectacular (Photos)
(Clearwisdom.net) NTDTV's Chinese New Year Spectacular launched touring shows concurrently in the Merriam Theater in Philadelphia, Pennsylvania and Cobb Energy Performing Arts Center in Atlanta, Georgia on January 4, 2008. The Divine Performing Arts touring company performed in Philadelphia to an excited audience.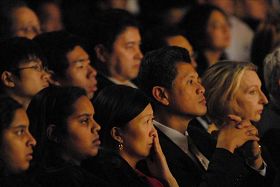 A culturally diverse Philadelphia audience enjoys the New Year Spectacular
William Feldman, a freelance writer for Northeast Times, said that the show was wonderful, and complimented the dance performances, especially "Rising Lotus."
Arthur Judson, a financial advisor, and his wife Bright Judson said that they had watched many shows before but the Chinese New Year Spectacular was unique and enjoyable, especially the dancing. They watched last year's Chinese New Year Spectacular and bought tickets this year when they passed by the theater and saw the advertisement.
Mike Kirwan is a successful businessman with an insurance company and one of the show's sponsors. He said that the performance was fantastic and made him want to learn Chinese.
Lilian Galenn, wife of a doctor of orthopedics, said that the show was excellent and exciting.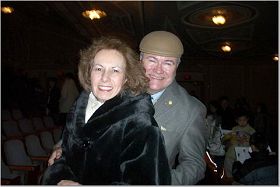 Psychiatrist Dr. Lawrence Clinton from New Jersey and his wife Bonny said that they "loved the fabulous backdrops" and "the dancing was amazing, beautiful."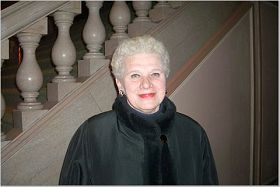 Ms. Joanne Kucinski
Joanne Kucinski, an executive secretary from a prominent law firm, had tears in her eyes after watching the show. She said that she liked all the performances, especially "The Power of Awareness." She said that she liked "Truth-Compassion-Tolerance" the most, and that if all of society could follow those principles, the world would be all right. She plans to go to New York to see the show again with her friends.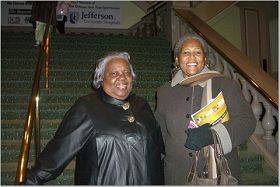 Ms. Julia Wost and Ms. Elizabeth Carmichael
Julia Wost and Elizabeth Carmichael work at a mortgage company. They came to see the show at the recommendation of one of the performers. They said, "The show is breathtaking and awesome. The performers are extremely talented." They said that they would make plans to see the show again in New York.