Practitioner Xie Wutang is Persecuted and in Critical Condition - Prison Refuses to Release Him (Photo)
(Clearwisdom.net) The December 16, 2007, release of Dafa practitioner Tan Xiangyu came thanks to the efforts of individuals around the world who possess a vision of justice. Tan Xiangyu endured nearly six months of intense persecution in Hunan Province Women's Prison. She suffers from tuberculosis. Her husband Xie Wutang, who is sixty-seven-years old, is still being held in prison and has developed tuberculosis symptoms.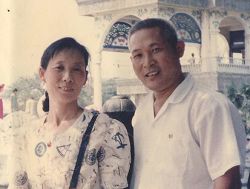 Xie Wutang and Tan Xiangyu couple
Xie Wutang and Tan Xiangyu each strongly believe in Falun Dafa. They had been clarifying the truth about the persecution and were arrested by police from the Public Security Subdivision Bureau in Tianxin District. On July 14, 2007, policemen Fu Shengwen, Chen Qian and other individuals from the bureau broke into the couple's home and arrested them. Mr. Xie Wutang was held in Changsha City Detention Center. Mrs. Tan Xiangyu was held in the Hunan Province Women's Prison. (Tan Xiangyu was held in this very prison for three and a half years before she was released to seek medical attention after her health deteriorated.)
During their arrest, the police handcuffed them. The handcuffs were extremely tight on Mr. Xie. His wrists were bleeding and blood covered his clothes and pants at the time.
After they were arrested, their children ran between the detention center, prison and the Public Security Subdivision Bureau, hoping to visit their parents. Their requests were refused each time for various reasons.
In September 2007, the Tianxin District Court in Changsha City secretly sentenced Mr. Xie Wutang to four years and eight-months in prison. Mr. Xie Wutang believes he is innocent. It is not a crime to clarify the truth to the public regarding the persecution, and he appealed to the upper level court. In November 2007, his appeal was rejected. He was then transferred to the No. 2 Prisoner Dispatch Center in Jinshi Prison in Changde City, Hunan Province.
On December 20, 2007, the family visited Mr. Xie who has been held for over five months in prison. They were all shocked when they saw him. Mr. Xie had aged tremendously. He used to be sturdy, healthy and weigh about eighty kilograms, but now he weighs about fifty kilograms, his hair is completely white, his complexion turned from a previously healthy rosy color to a waxy yellow, and he is showing symptoms of tuberculosis. He is weak and nauseous a majority of the time.
When Mr. Xie was first held in the detention center, he held a hunger strike which lasted twenty-seven days, and as a result he was in critical condition. Detention center officials discussed the release of Mr. Xie for poor health conditions with the Tianxin Public Security Bureau, and the bureau refused the request. His health has been very weak since then, and his health condition fits the criterion for one to be released due to a medical condition. Because of the CCP's wicked persecution policy, basic human rights are constantly being violated and ignored. Mr. Xie had numerous illnesses before he practiced Falun Dafa, including, cerebral vascular disease, and a bulging disc in his back, rheumatoid arthritis, and more. After practicing Falun Dafa for just three months, all his illnesses had disappeared.
Responsible parties:
No. 2 Prisoner Dispatch Center in Jinshi Prison in Changde City, Hunan Province: 86-736-4243120
Policeman, Luo (who responsible handling Falun Dafa practitioners in No. 2 Prisoner Dispatch Center): 86-13975600521(cell)
Policeman, Song (who responsible handling Falun Dafa practitioners between No. 2 Prisoner Dispatch Center and Jinshi Prison): 86-13875097871(cell)
Jinshi Prison in Changde City: 86-736-4298199, 86-736-4298113, 86-736-4298608, and 86-736-4298220
Related articles http://www.clearwisdom.net/emh/articles/2007/12/14/92125.html