Australia: Divine Land Marching Band Amazes Melbourne Spectators at the National Day Parade (Photos)
January 31, 2008 | By a Falun Dafa practitioner in Melbourne
(Clearwisdom.net) January 26, 2008, was Australia's 71st National Day. Huge crowds gathered in downtown Melbourne, and surrounding areas were treated to a variety of public events. The Melbourne City Hall website and the special website for the celebration of Australia Day provided a wide range of information and resources to celebrate Australia Day anywhere. The event that people looked forward to most was the Grand Parade--a traditional part of the celebration that wound its way down Swanston Street in front of Melbourne City Hall. In the parade this year, the Falun Dafa procession, led by the Divine Land Marching Band, was very impressive.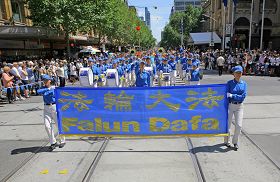 The Divine Land Marching Band in the parade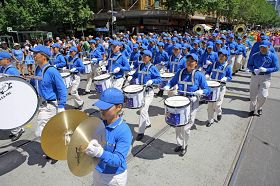 The Divine Land Marching Band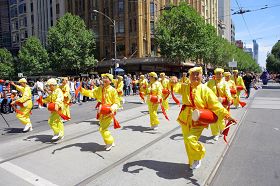 Waist drummers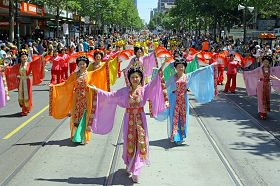 Practitioners in Tang Dynasty costumes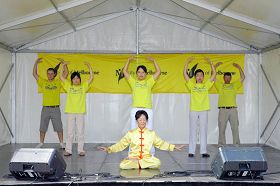 Exercise demonstration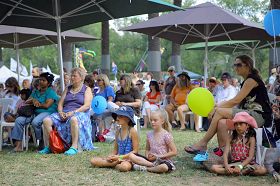 Two children imitated the practitioners on the stage doing the exercises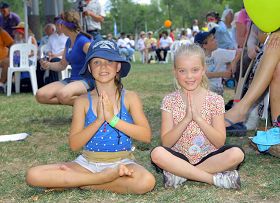 Children imitating the exercises
At 11:00 a.m. the annual flag-raising ceremony was held, accompanied by the solemn National Anthem in front of Melbourne City Hall, a symbol of pride for the Australians. At 11:30 a.m.. the parade started. Nearly a thousand people from 60 groups participated in the parade. They wore costumes representing their ethnic backgrounds and, through music, dancing and other forms, displayed their traditional culture to the spectators on either side of the street. The annual National Day Parade is a good opportunity for different communities in Australia to share their own culture with the public.
The Falun Dafa procession, composed of Western and Chinese practitioners, generated a warm round of applause from the spectators. The Divine Land Marching Band led the procession, its music majestic and powerful. Following the band were practitioners in Tang Dynasty costumes and a Fan Dance group. The waist drummers were in high spirits, and the drumming was lively and inspiring.
After the parade, the practitioners participated in the Grand Garden Fair held in Alexandra Garden downtown. They set up a booth to introduce Falun Gong and demonstrated the exercises on the stage.
As the host of the Chinese Spectacular presented by the Divine Performing Arts, the Falun Dafa Association applied for a booth to introduce the Divine Performing Arts' global tour. Beautiful young ladies in elegant, graceful Tang Dynasty costumes walked among the crowd, distributing flyers about the show, which people were happy to accept.
When practitioners demonstrated the exercises on the stage, some people learned the movements as they watched. The audience saw the beauty of Falun Dafa through the practitioners' graceful presentation.