Australia City Employee: "The Parade Would Not Be Complete Without You" (Photos)
(Clearwisdom.net) On the morning of January 12, 2008, the annual Presley Music Festival Parade was held in Parkes, Australia. Falun Gong practitioners were once again invited to participate in the parade, which was broadcast live by Australian ABC-TV.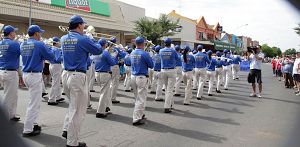 The Divine Land Marching Band: Broadcast live by ABC-TV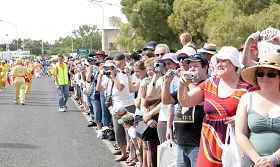 Spectators captured memories of the Marching Band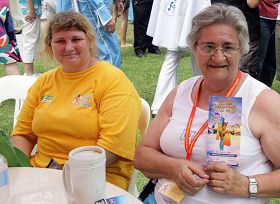 City employee Pat Oliver (right): "The parade would not be complete without you."
Parkes, a major railway hub in Australia, is about five hours from Sydney. As the home of the CSIRO Radio Telescope and a place rich in gold ore, the town is growing into a business center and is always crowded with people.
With more than 100 participating groups, the festival parade attracted many residents from nearby cities, along with tourists, and it was estimated that more than 10,000 people attended the parade.
The Falun Gong group included the Sydney Divine Land Marching Band, a waist drum troupe, and a group of celestial maidens in Tang Dynasty attire. Seeing this unique presentation, spectators exclaimed and applauded emotionally. The "Falun Dafa" and Chinese New Year Spectacular banners were very eye-catching. Many people who received a flyer for the Spectacular said that they would go to the show.
Pat Oliver works at city hall. She said, "The presentation of your Falun Gong group is great. You must come back next year. The parade would not be complete without you."
When presented with a flyer for the Chinese Spectacular, she said that she loved Chinese culture and would recommend the show to her friends.