Korean Monk: "I Must See This Show" (Photos)
January 29, 2008 | By Su Qing
(Clearwisdom.net) On January 26, 2008, the Chinese New Year Spectacular, presented by the Divine Performing Arts, staged its second show in Chicago, Illinois, at the Arie Crown Theater to an appreciative audience.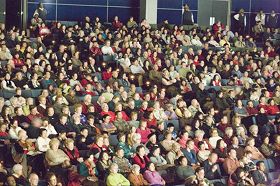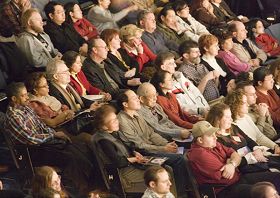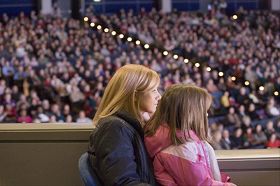 The Chinese New Year Spectacular audience
Korean Monk: "I Must See This Show"
Korean Monk Xuan Xin
Xuan Xin, a monk from Korea, has been in America for five years. After he saw the story in a Korean newspaper about the Chinese New Year Spectacular, he thought, "I must see this show." Xuan Xin said, "This is my first experience with a show of this kind. I like Chinese culture and I like Chinese people. I knew the show would be very good."
After the first half, Xuan Xin agreed to be interviewed during the intermission. He said the Spectacular was, "Grand, and the choreography and performers are outstanding. It successfully illustrates the culture of the East including Mongolia, Tibet, and many other cultures."
"I liked the program about Falun Gong being suppressed the most, because it uses art to tell people how a belief is being persecuted in China. The program was well designed. It calmly but completely conveyed the information." Asked if he had noticed the persecution of Falun Gong in China, Xuan Xin said he definitely knew about it because he was a cultivating practitioner, too.
Salesperson: "So My Daughter Can Learn about Chinese Culture"
Cathy Connor and her ten-year-old daughter, Sabrina, who was adopted from China
Cathy Connor, a salesperson with a motion picture production company, read the story about the Chinese New Year Spectacular in a local newspaper and decided to bring her ten-year-old daughter, Sabrina, who was adopted from China. She wanted to her daughter to learn more about Chinese culture.
She told reporter, "The dances and music were so beautiful. I liked the story about the Lotus Flower most. It was very moving."
Sabrina said she liked the "Drummers of the Tang Court" best.
"We liked the show very much," Cathy said, "Sabrina asked me a lot of questions (about Chinese culture). It was very good."