Taipei Economic and Cultural Office in Chicago Praises Divine Performing Arts for "Preservation and Proclamation of Traditional Culture" (Photo)
January 29, 2008 | By Minghui/Clearwisdom reporter Xu Jing
(Clearwisdom.net) On the January 26, 2008, the director general of the Taipei Economic and Cultural Office in Chicago, Mr. Wang Bao-hsin, attended his second Chinese New Year Spectacular. At the Chinese New Year Spectacular VIP reception in Chicago, he praised the Spectacular's high caliber presentation of traditional Chinese culture, and the efforts of the artists and producers. He felt that the Divine Performing Arts company has done even better than China or Taiwan in preserving and promoting traditional culture.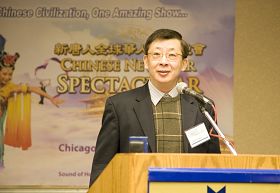 Director general of the Taipei Economic and Cultural Office in Chicago, Mr. Wang Bao-hsin
With regard to the interference from the Chinese Communist Party with the show, Mr. Wang said that he was not surprised at all, as the Chinese Communist regime does not allow for any differing voices to exist. He also pointed out that this is not the case in Taiwan, and in reality, more of the traditional Chinese culture has been preserved in Taiwan than in China. He gave the example of the traditional language and written characters, which was abolished in China through the "literature revolution." Mr. Wang also pointed out that the recent democratic election that took place in Taiwan would not happen in China. "If China were to be democratic country, a show like the Divine Performing Arts, through which people use their own energy and financial resources to promote Chinese culture, should be fully supported by the government, just like in Taiwan where the government supports it 100%. The power of the the Chinese Communist Party authority should not substitute people's rights."
Mr. Wang also said that the general public in Taiwan admires Falun Gong very much, for their unyielding spirit. "I hope Falun Gong practitioners will continue to persevere. We stand with you on the same ground," he said.