Chicago Audience Member: "Two Hours Is Too Short" (Photos)
January 29, 2008 | By Lin Yunzhi in Chicago
(Clearwisdom.net) On January 25 and 26, 2008, the Divine Performing Arts staged three Chinese New Year Spectacular shows in the city of Chicago.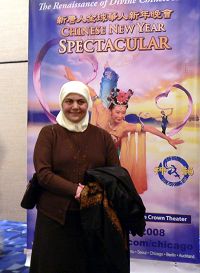 Lama Sabbagh from Syria
Lama Sabbagh, who is from Syria, said that she had an unforgettable evening. She traveled to China last year, but she was deeply impressed by the traditional Chinese culture that the Chinese New Year Spectacular showcased. "Very enjoyable!" she said. She hopes to come see it again next year.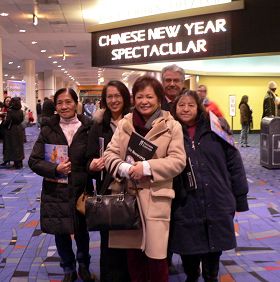 Five Water District employees (from left to right): Salvecian, Marilyn, Ruth, Callos, and Lettire
Five employees of the Metropolitan Water Reclamation District of Greater Chicago (MWRD) Salvecian, Marilyn, Ruth, Callos, and Lettire attended the show and left the theater happy. They posed to have a photo taken. Marilyn shared her impression of the show, "Very wonderful!" she said. "See you next year!"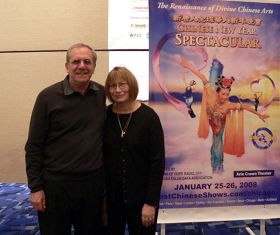 Richard and Pam Sussman
Richard Sussman and his wife, Pam, attended the show again this year, after seeing last year's performance. "It was a very beautiful experience," Pam Sussman said. "The dances were very creative, and the costumes and music were beautiful." Richard is an engineer. He said the show was very appealing--"perfect." He continued, "Two hours was far from enough for a show like this. It should be three hours."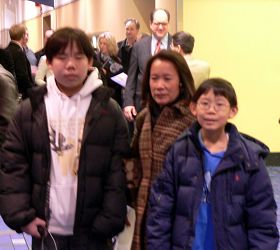 Insurance company agent Ms. Ling Chao and her two sons, Alex and Michael
Insurance company agent Ms. Ling Chao brought her two sons, Alex and eleven-year-old Michael, and they had an unforgettable Chinese New Year celebration. Two years ago, the whole family attended the show. This year, when they learned that the Divine Performing Arts would perform in Chicago, Alex insisted on seeing the show again. When asked which part was their favorite, the two children said with one voice, "The Drum Dance." Their mother said all the dances were her favorite.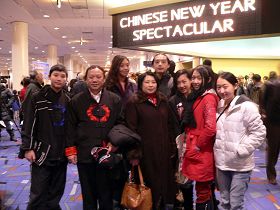 The Xiong family, who have lived in Chinatown for many years
The Xiong family has lived in Chinatown for many years. They said the New Year celebration this year was quite unusual. The parents, Chuhu and his wife, wore traditional Chinese clothing. They brought their children to see the show and were filled with joy from the performance. Mr. Xiong told the reporter that he is of the Miao ethnic minority. It was the first time that the whole family celebrated the Chinese New Year with so many people. They said the show was excellent, and they will come to see it again next year.