Chicago: New Year Spectacular Generates Respect for Chinese Culture (Photos)
(Clearwisdom.net) On January 25, the first show of the Chinese New Year Spectacular in Chicago was presented at the Arie Crown Theater. Before the show started, the reporter briefly talked with Anna Bukowski, who works at the Argonne National Laboratory. Anna came with her husband Macieg and her cousin Irena Pulka. They are all Polish immigrants. A Chinese colleague of Anna recommended the show to her.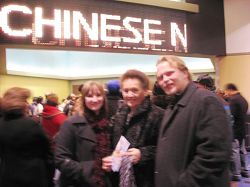 Anna Bukowski (left) came with her husband and cousin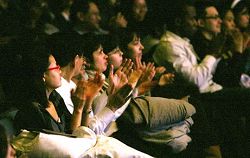 Spectacular audience in the Arie Crown Theater
During the intermission, the reporter met them again. Anna said: "Oh, we love it so far. It is very good. I love the atmosphere now, it is very beautiful." Anna loved the Mongolian Bowl Dance, Macieg liked the Tang Court Drummers, while the Tibetan Dance was Irena's favorite piece.
Regarding the songs, Anna said that the lyrics were very beautiful and very deep.
"It is very spiritual. It is very different than I thought. The show makes me respect Chinese culture," Anna said.
Macieg was amazed by the synchronicity of the dancers, and his wife Anna said: "It is very hard to describe. It is just beautiful. We are very happy. Everything is just beautiful, and everything is just the way it is supposed to be."
Macieg said that he would tell his friends "This is very nice art, and you have to see it."