Theater Producer/Director/Actor: "There was a lot of magic there." (Photo)
January 24, 2008 | By Minghui reporter Ye Linghui
(Clearwisdom.net) Blake Thorne is a producer, director, and actor with the Cabbagetown Theatre Company. He attended the January 20 performance of the Chinese New Year Spectacular in Toronto. He commented, "There was a lot of magic there."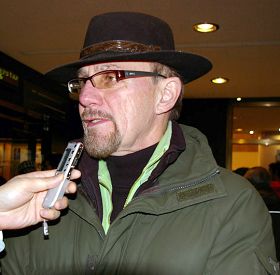 Blake Thorne
About a week ago, while walking down Toronto's Spadina Avenue in Chinatown, Mr. Thorne was handed a flyer about the Divine Performing Arts Chinese New Year Spectacular coming to the Sony Centre.
"It was just this morning that I decided to come to today's matinee. I thought, I'm going to do something a little different, so I came down here and it was absolutely phenomenal, it was fantastic! I really enjoyed it. And I'm a producer/actor myself, so I can appreciate the theatrical aspect, the glamor. It was just unbelievable, it was lovely!" he said.
Mr. Thorne enjoyed the drumming and was captivated by the dancing.
Thorne has produced a lot of shows. A new show, in which he has been involved, "From Here to Africville & once a flame," will be held at the Factory Theatre soon. This show tells a story of a group of people who fight for their rights under suppression.
Thorne said the programs about Falun Gong in the show, which were also stories dealing with suppression, gave him some hints.
"I'm a great fan of what you might call short sound bites, and this kind of fits that format. They're short dance pieces, and then a song, and then another dance piece. It's always something new, so I very much enjoyed that particular format," said Mr. Thorne.
As for the dynamic backdrop scenery, "There was a lot of magic there," he said. "With the horses coming through the back screen and the chariot-like force, it really was gripping. I was quite shocked at the effectiveness of it. It was extremely well done."
Noting that he does not have a great deal of knowledge about Chinese culture, Mr. Thorne said he appreciated the background information provided by the host and hostess prior to each performance.
"I will be back," he said, and he will "definitely" ask his friends to come as well.