Toronto: Experiencing Chinese Culture (Photos)
(Clearwisdom.net) Ms. Shang brought her son to Toronto's Sony Center for the Performing Arts on January 19 to experience Chinese culture. "My son, Steven, has lived in Canada for 10 years, and I think he should get more exposure to Chinese culture. The show was very good and my son liked it very much."
"I liked the Tang Court Drummers. The sound of the powerful drums was very loud and you could feel huge energy. They coordinated very well," said Steven, "I went to some temples in China when I was young. The dance that depicted two hoodlums in a temple was very vivid."
Ms. Shang brought her son to experience Chinese culture
"They were very well prepared, and the performers were outstanding. The costumes were very good and historically accurate. The backdrop design was really impressive... Overall, I think it was an outstanding show," Ms. Shang concluded.
Joseph Lee, a marketing manager, was very impressed with the show.
"I am Korean, and I know that Korean and Chinese culture have many things in common. However, after seeing the show, I have come to realize that Chinese culture is far more profound than I thought."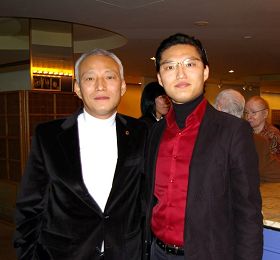 Marketing manager Joseph Lee and his father, Young Lee
Joseph's father, Young Lee, is the owner of a Korean language newspaper in Toronto. He lived in Hong Kong for a few years when he was young and can speak some Cantonese.
Mr. Young Lee said, "Korean culture is very close to Chinese culture. My experience in Hong Kong gave me more understanding of Chinese Culture. This show was outstanding. I am very satisfied... I will try to come next year if the show will be in Toronto again."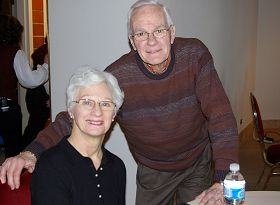 The McClearys said the show was exceptionally good
Jane and Bo McCleary were both very satisfied with the show.
"The show was marvelous. The costumes, the dances, the backdrop design, everything was great," said Jane. "I liked the introductions given by the MCs. They were very helpful. I also read the program book, which was helpful as well."
When asked which was her favorite, Jane said that every performance was very good and it was hard to tell which one was better.
"Each selection was different and conveyed a different meaning. The music was wonderful. It was just great." Jane observed, "China has so many different types of dances, very rich. The dance that depicted the drummers in the Tang Dynasty was magnificent and exceptionally powerful."
Bob said that the backdrop design was very impressive. "That was great. I don't know how they made it, but it truly added value to the show."
Both the songs and dances impressed Bob deeply, "I could sense some of the Chinese culture."