People React Positively to the Toronto Chinese New Year Spectacular Shows (Photo)
(Clearwisdom.net) On the evening of January 19, performers of the Divine Performing Arts Company presented the third show of the Chinese New Year Spectacular in Toronto. Many audience members were impressed by the stories portrayed in the dances.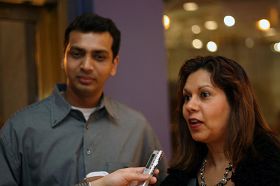 Mr. and Mrs. Mohammed were fascinated by the stories portrayed by the dances
Janet Mohammed works in a bank and her husband, Daryl Mohammed, is a mechanical engineer. Janet said she likes dances that tell a story.
"Although we have many Chinese friends, our understanding of China was limited to just Chinese food and the lion and dragon dances." Immigrants from Central America, the Mohammeds said that the show helped them to learn about Chinese culture.
Another couple, Jamie and Mark, commented on the "very informative and beautiful backdrop design." Mark said that he especially impressed by the male dancers, because their movements were so swift and powerful. Jamie liked the Mongolian Bowl Dance the most and enjoyed the beautiful Chinese legends.
A young mother brought her two children to the show. She said that the show was "perfect" and "every piece was good."
"It was absolutely first class. I just want to see it again," said the mother. "I liked the drummers and the 'The Fruits of Goodness.' The two dancers in that one are very talented. They were saved because of their sincere reverence for the Gods. I also believe in God, and this dance portrayed a very important idea."