Taiwan: Practitioners in Yilan County Hold Group Practice and Experience Sharing and Wish Teacher a Happy New Year (Photos)
January 02, 2008 | By Yilan Falun Dafa practitioners
(Clearwisdom.net) Early in the morning of January 1, 2008, Falun Gong practitioners from Yilan County, Taiwan gathered at Sports Park for group exercises, sending forth righteous thoughts, group Fa study and experience sharing. Taking advantage of the New Year's Day holiday, practitioners from all walks of life, young and old, participated in this activity. Despite the recent cold weather in Taiwan, the practitioners still energetically practiced the exercises together, demonstrating the peace and beauty of "Truthfulness, Compassion, Forbearance."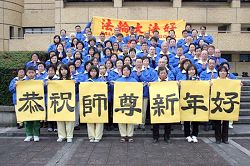 Yilan practitioners wish Teacher a Happy New Year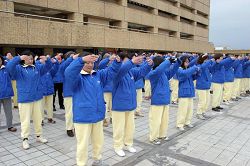 Yilan practitioners do the exercises together, joyfully celebrating the New Year
The Yilan practitioners took a group picture to wish great Teacher a Happy New Year.
Practitioners studied Hong Yin I and Hong Yin II together, exchanged their understandings, discussed how they could improve in cultivation and encouraged each other to be more diligent in the new year.
In recent years, Taiwan Falun Gong practitioners have often gone to Hong Kong to support truth-clarification to Chinese tourists at popular sites. Three days ago, about 20 Falun Gong practitioners from Yilan went to Hong Kong to participate in the Asia Pacific Regional Fa Conference and to take part in activities supporting 30 million people quitting the Chinese Communist Party (CCP) and its affiliated organizations. Several practitioners shared their experiences related to their trip to Hong Kong.
They talked about the process of abandoning attachments, having the wish to sincerely save people, embarking on the journey, and taking part in truth-clarification activities. Through experience sharing, practitioners sought to find their deficiencies in cultivation, reminded each other to do the three things well and to seize the time remaining to help more people learn the facts about Falun Dafa and the CCP's persecution of Dafa in China.