Audience Member in Phoenix: Profound Lyrics Moved Me to Tears (Photo)
January 18, 2008 | By Zhou Shan in Phoenix
(Clearwisdom.net) On January 14, 2008, the first Chinese New Year Spectacular in Phoenix, Arizona was presented at the Dodge Theatre. The audience responded enthusiastically, and many people said the show conveyed a powerful spiritual message.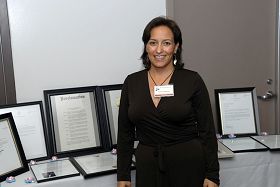 Susan Lahag: "There is kindness in it."
Susan Lahag is an owner of a small business. After seeing the show, she was very excited and said that she was completely captivated by the wonderful performance.
Susan commended the show, saying it was fantastic and graceful and amazing. She said, "I just have no words for it."
Soprano Huang Biru's song, "May You Understand," calling for people to rediscover their true selves, moved her to tears. Susan said that the lyrics have a profound meaning, and she loved the song.
Susan's favorite performances also included "The Fruits of Goodness," "Water Sleeves" and "Drummers of the Tang Court." She said, "There is kindness in it. There are really no words for it. You can feel it when you personally attend the show."