Ottawa, Canada: The Chinese New Year Spectacular in the Eyes of Scholars (Photos)
January 17, 2008 | By Minghui reporter Yingzi
(Clearwisdom.net) On January 13, Divine Performing Arts performed in NTDTV's Chinese New Year Spectacular in Ottawa, Canada, with many local scholars, university professors and artists in attendance. Below is some of their feedback.
Art Professor: The actors were professional and Chinese and Canadian traditions have similarities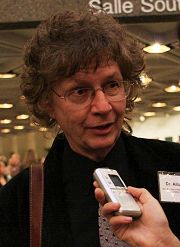 Professor Allan Ryan
Professor Allan Ryan is the chair of the department of Native Arts at Carleton University and well known in his field. After the show, Professor Ryan said that the dancers were very professional, and so was the music. He said he had looked forward to the show for months, and it was excellent, for it perfectly combined the traditional arts and modern life.Professor Ryan thinks that traditional Chinese culture and the native Canadian arts have similarities at some level. He expressed a desire to communicate with Chinese artists more in the future.
Professor Ryan highly praised the background design of the show, saying it made the history romantic and showed people rich traditional culture with modern explanations. He said it was exciting that the historic components were added to the dances, which is very encouraging.
Translation professor: the show brings feeling of peacefulness
Professor Genevieve Mareschal
Professor Genevieve Mareschal is a professor from the School of Translation and Interpretation at the University of Ottawa. She felt that it was a purely truthful, compassionate and beautiful show, one with natural harmony.
Professor Mareschal said that the collaboration between dancers was harmonious, and the show manifested the values of compassion and people helping each other. To her, the show brought a feeling of peacefulness.
She said the show was a unique, completely new cultural feast.