Asian Audience in Boston: The Show Helps Us Understand Chinese Culture (Photos)
(Clearwisdom.net) The New Tang Dynasty Television Chinese New Year Spectacular shows came to a successful close in Boston on January 12, 2008. Audience members who were interviewed after the show said that the performances helped them learn a lot about Chinese culture, and many were eager to see the performances by Divine Performing Arts again in the future.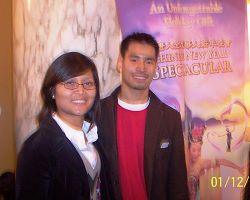 Asian audience member Mr. Chan and his girlfriend attended the show
Asian audience member Mr. Chan and his girlfriend came to see the show together. Mr. Chan said after the show that the performance was fabulous. "Through watching the show, the knowledge we learned about Chinese culture is much more than what we learn from watching TV programs. This is learning Chinese culture from a different angle. I liked very much the pieces that are spiritual. I will come to watch the show next year. We received a flyer about the Chinese New Year Spectacular in New York during the New Year celebration, and we may go to New York to see the show."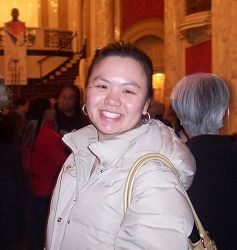 Ms. Christina Yen, freelance consultant
Freelance consultant Ms. Christina Yen commended the show. She said, "It was wonderful. It can be seen that there are many talented performers in the performance. They displayed their special talents, that we have never seen before. I liked the 'Mongolian Bowl Dance,' because I like their costumes and colors. Their movements were so smooth and flowing. It's really amazing. I seem to have heard that practicing Falun Gong can help improve oneself."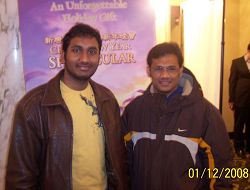 Prathyush Gorantala (right) from India and his cousin Veejay
After the show on January 12, 2008, the reporter noticed two young Indian men walking out of the theater and enthusiastically discussing "Truthfulness-Compassion-Forbearance." The reporter walked up to them and invited them to share their understandings.
Prathyush Gorantala said, "The show was terrific. (The show) helped us learn more about Chinese culture. I liked the show very much. The show talked about truth, belief in gods, and 'Truthfulness-Compassion-Forbearance.' We have learned a lot from watching the show. We thank the show for providing help for everybody. We thank everybody in the show."
Prathyush also said, "I liked the drum dance, the one about the emperor, and also performances about materials related to food, such as bowls and chopsticks, and so on. Each dance was very good. We enjoyed it very much."
Veejay is Prathyush Gorantala's cousin, who just graduated from Texas State University--Dallas School, after obtaining a masters' degree in biotechnology. He came to Boston to visit his cousin and to look for a job. He said, "The performance was fantastic, wonderful, I liked it very much. It is unimaginable that 27 dancers could dance on the same stage so coherently and synchronized. It's amazing. I'll definitely come to see the show next year."