Mortgage Manager: "We Overseas Chinese Need Programs Like the Spectacular" (Photos)
(Clearwisdom.net) Mr. Guo from Rhode Island attended the Chinese New Year Spectacular in Boston. He is in the mortgage business. Mr. Guo and his wife also watched last year's show. He said, "The show is fantastic! Wonderful! We overseas Chinese need programs like the Spectacular. It is like glue, joining together overseas Chinese."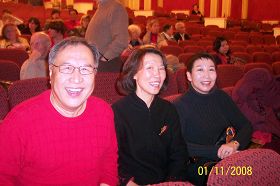 Mr. Guo and his wife brought friends to watch the Chinese New Year Spectacular
Ms. Qiao and her grandchildren
Roberts and wife
Mrs. Guo said, "My husband just came back from China. He has two classmates who are Falun Gong practitioners. This year it was the fortieth reunion of our high school graduating class. Many of our classmates got together in China. The two practitioners had no ID (due to the CCP's persecution of Falun Gong in China) and risked their safety to visit my husband and other classmates. One practitioner's husband is a director of an institute. Anytime she traveled, her husband accompanied her since without an ID one cannot take the bus. It's horrible. The Chinese Communist Party is terrible. Falun Gong practitioners are great. They have sacrificed a lot. Chinese people will greatly appreciate them one day."
Roberts Bonoldi is a real estate agent. He said he liked the show since it presented a good message. "During the soprano's performance, the lyrics carried such an important message. It was very moving. I sincerely hope that China can turn around the situation of no freedom of belief. Currently things are not going well there in this regard. Freedom of belief is fundamental for the true progress of any nation."