Canada: Government Officials Congratulate the NTDTV Chinese New Year Spectacular (Photos)
(Clearwidom.net) The Divine Performing Arts company will hold several performances of the Chinese New Year Spectacular in Canada. The first will be held in Ottawa on January 13, and then in Montreal, Toronto, Vancouver, Edmonton and Calgary. Following greetings from the Prime Minister and Governor General of Canada, several ministers of the Canadian government also sent congratulatory letters to the show recently.
Public Safety Minister Stockwell Day wished a happy New Year to the Chinese people and a big success to the show on TV. In a televised speech, he said that Chinese-Canadians should be proud of the contribution they make to the multi-cultural diversity in Canada and be proud of their traditional Chinese values. He said the Chinese-Canadians have made Canada more beautiful and stronger.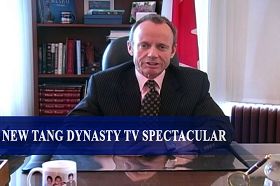 Public Safety Minister Stockwell Day
Finance Minister and Minister Responsible for the GTA, Jim Flaherty, wished the NTDTV audience a happy New Year.
He said, "Canada has become the destination of choice for people from every corner of the world, especially China. And our country is a much richer place as a result. New Canadians have made a lasting positive impression on our social fabric and a significant contribution to our national economy."
"Communication, of course, is critical. It allows us to share our culture and foster a better understanding between communities. New Tang Dynasty Television has played an important role in this regard, providing Chinese Canadians with programming in their own language."
He pointed out: "The strength of Canada comes from its diversity. It comes from the invaluable contribution made by people like you, each and every day."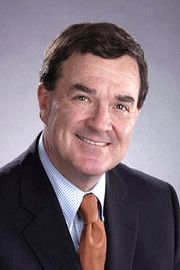 Finance Minister and Minister Responsible for the GTA, Jim Flaherty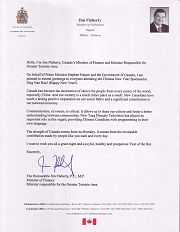 Congratulation letter from Jim Flaherty
The Secretary of State for Multiculturalism and Canadian Identity, Jason T. Kenney, said in his letter "On behalf of Prime Minister Stephen Harper, I applaud New Tang Dynasty Television for its commitment to bringing Chinese arts and culture to all Canadians."
He said, "With shows in 50 cities throughout five continents--and 21 Canadian performances--this increasingly popular celebration of the Chinese New Year highlights China's rich culture and traditions. It also demonstrates how sharing one's cultural heritage leads to better understanding and communication among people of all backgrounds. In so doing we grow in our knowledge of one another and enrich our collective culture."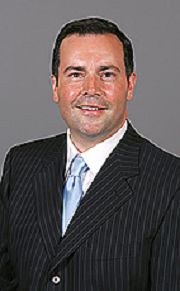 Secretary of State for Multiculturalism and Canadian Identity, Jason T. Kenney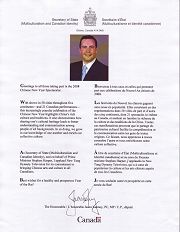 Kenney's letter