Australia: Falun Gong Practitioners Submit a Watch List to the Police, Ask that Bo Xilai Be Denied Entry (Photos)
September 07, 2007 | By Luona in Sydney
(Clearwisdom.net) On September 4, 2007, prior to the APEC summit to be held in Sydney, Falun Gong practitioners submitted an open letter to the Australian Federal Police requesting that human rights criminal Bo Xilai be denied entry. They also presented a watch list which included eight people who were largely responsible for the persecution of Falun Gong. Jiang Zemin, Luo Gan and Bo Xilai are on the watch list. The practitioners asked the police to prohibit these human rights criminals from entering Australia and deport them as soon as they arrive.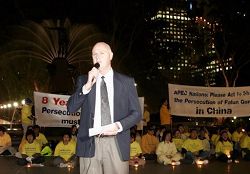 Spokesperson for the Falun Dafa Association John Deller points out that Bo Xilai bears an unshirkable responsibility for persecuting Falun Gong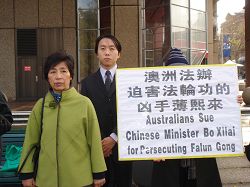 Falun Gong practitioner Liu Yaqin (left) was subjected to persecution in Dalian where the accused, Bo Xilai, was Party secretary of the city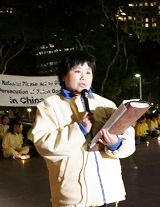 Australian citizen Zhang Cuiying calls for bringing Jiang and Luo to justice
Chinese Commerce Minister Bo Xilai is accompanying Hu Jintao to attend the APEC summit this year. He was sued for torture by Sydney Falun Gong practitioners at the New South Wales Supreme Court when he accompanied Wen Jiabao to visit Australia last year. Bo has been sued in several countries, including the United States, the UK, Poland, Russia and others, for his active role in the persecution of Falun Gong. His evil actions make him unpopular wherever he goes.
The president of the New South Wales Falun Dafa Association, Ms. Zhao, said in an interview that the Falun Dafa Association had submitted a written request that same afternoon to the Federal Police to deny entry to and deport Bo Xilai. They had also provided the police with a watch list on which major responsible people for the persecution of Falun Gong were included. Jiang Zemin, Luo Gan, Liu Jing, Zhou Yongkang, Zeng Qinghong, Bo Xilai, Zhang Dejiang, Chen Shaoji and others were on the list. The association also provided information about the crimes that Jiang Zemin, Luo Gan, Bo Xilai and others have committed in the persecution of Falun Gong, and information about the lawsuits against these people for crimes against humanity, torture and genocide filed in multiple countries such as Australia, the United States, Canada and others. The Association requested that Australian police and the immigration department prohibit these human rights offenders from entering Australia, and deport them as soon as they arrive. Ms. Zhao said that allowing free access to these human rights offenders is a threat to freedom, faith, and human rights in Australia.
On the evening of September 4, Falun Gong practitioners held a press conference and candlelight vigil at Sydney's famous Hyde Park. They called on leaders from different countries that attend the APEC summit and the international media to pay attention to the Falun Gong human rights issue, help end the persecution that has persisted for eight years and help bring the chief perpetrators in the persecution of Falun Gong to justice. They also called on leaders and the media to urge the Australian government to deny entry to and deport Chinese Commerce Minister Bo Xilai who came to attend the APEC summit. Such a human rights offender is not welcome in Australia. Reuters, The Daily Telegraph, Taiwan's Macro TV, NTDTV, the Epoch Times and other Chinese and English media outlets conducted interviews and covered the day's event.
Although Bo Xilai is one of the members of APEC, he is a defendant in a lawsuit at the NSW Supreme Court and has been charged with the crime of torture. Evidence shows that in his jurisdiction in Liaoning Province, more than 100 Falun Gong practitioners died as a result of persecution. Bo Xilai should be held responsible and should be brought to justice. Bo Xilai's behavior has seriously violated freedom and human rights in democratic countries. Such a human rights offender cannot be allowed free access to Australia, as it would bring about an adverse impact to the community.
Falun Gong practitioner Ms. Liu Yaqin, originally from Dalian City of China and a victim of the persecution of Falun Gong by the CCP, spoke at the press conference. Ms. Liu started practicing Falun Gong in July 1994 in Dalian City, Liaoning Province. After July 20, 1999, she was arrested and detained many times for remaining steadfast in her belief. She was sentenced to two years of forced labor without trial from 2001 to September 2003. She was detained in Dalian Forced Labor Camp where she was subjected to torture and mental torment. She was also forced to have a physical check-up and have her blood tested. She also knew of several practitioners who were tortured to death, and other practitioners were mentally traumatized as a result of the persecution. She went to Sydney at the end of 2006. As she has personally experienced persecution, she would like to use her own personal experience to provide evidence for the lawsuit.
Liu Yaqin said: "Dalian City, where Bo Xilai was the Party secretary, has become a heavily-hit area in the persecution of Falun Gong nationwide since 1999. The Dalian City Forced Labor Camp built two new buildings: one was for women, and the other was for men. They were specifically for detaining Falun Gong practitioners from 2001 to 2003. Bo Xilai was 'appreciated' by the CCP for actively following Jiang Zemin in the persecution of Falun Gong. He was promoted from being mayor of Dalian City to governor of Liaoning Province and deputy Party secretary of the province. Later, he was promoted to Commerce Minister." Shortly after Bo Xilai was promoted to governor of Liaoning Province in 2001, the persecution was escalated in the entire province. All forced labor camps sent guards to the Masanjia Forced Labor Camp to learn their brutal methods of persecuting and "reforming" Falun Gong practitioners, and then returned to their original forced labor camps to intensify the persecution of Falun Gong practitioners. When Ms. Liu was detained in the Dalian Forced Labor Camp, she was a witness to several practitioners being tortured to death and other practitioners being mentally traumatized. She also said that since she had this opportunity to go to Australia, a free society, she must step forward to speak out on behalf of those Falun Gong practitioners suffering persecution in China who have no rights, and bring Bo Xilai to justice.
Australian-Chinese artist and Falun Gong practitioner Ms. Zhang Cuiying filed a lawsuit at the Supreme Court against Jiang Zemin, Luo Gan and the 610 Office, which was established specifically to persecute Falun Gong. They were accused of crimes against humanity and torture. She spoke about the progress of the lawsuit against Jiang at the press conference. The Australian Foreign Ministry has submitted the legal papers, summons and other relevant information to an official at the Chinese Embassy in Canberra through diplomatic process, and sent Zhang Cuiying a written notice saying that the summons had been served effectively. Zhang Cuiying said that if Jiang Zemin fails to respond within two months of receiving the summons, she and her lawyer will ask the court to make a default judgment against the defendant. Zhang Cuiying also said that she will participate in a number of petition activities during APEC this week, and send an open letter to the Australian Prime Minister and leaders from different countries who attend the summit, calling for their help to end the persecution.