Ms. Li Changying, a Falun Gong Practitioner from Xi'an, Persecuted to Death (Photos)
(Clearwisdom.net)
After eight years of suppression and persecution, Ms. Li Changying's old illness returned, which caused her abdomen to become terribly swollen. She died on August 31, 2007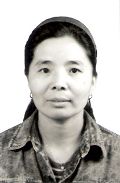 Ms. Li Changying's photo
Ms. Li Changying, also known by the name Li Shufeng, was a 54-year-old practitioner from Xi'an City, Shaanxi Province. She used to work at Xi'an Film Studio and live in dormitory No.2 of Youdian Company on Youdian South Alley, Hanguang Road, Xi'an City, Shaanxi Province. Before Ms. Li began to practice Falun Gong, she suffered from severe hepatitis B. After she started to practice Falun Gong, she became completely healthy and energetic. When the Chinese Communist regime started to suppress Falun Gong and publicize false accusations on July 20, 1999, Ms. Li Changying traveled to Beijing's Tiananmen Square in 1999 and 2000 to appeal for Falun Gong. In 1999, she was taken back to Xi'an in imprisoned in Yanta Detention Center in Xi'an. In Beijing in 2000, the police at Tiananmen Square repeatedly hit her head with a police baton until her head started to bleed profusely. When the police noticed that she didn't stop bleeding, they released her because they were afraid that she might die in their custody.
After Ms. Li's two trips to Beijing to appeal for Falun Gong, the Security Department at Xi'an Film Studio assigned two men, including Li Huaili and Jiao Chuanqing, to try to force her to renounce Falun Gong. The two men tried everything to make her renounce Falun Gong in writing.
On April 28, 2001, a group of vicious police officers from the Weiyang Police Branch in Xi'an illegally arrested Ms. Li Changying at her home. They accused her of posting flyers about Falun Gong on the streets and demanded 500 yuan or else they would put her for 15 days in detention. Without going through any legal procedures, the police took 500 yuan from her and have not returned the money.
In November 2001, Ms. Li distributed Falun Gong's truth-clarification materials in Lingbao, Henan Province, when someone reported her to the police. The police from the local Huanghe Road Police Station arrested her and took her to the local State Security Bureau. She was sentenced to two years in Shibalihe Women's Forced Labor Camp without due process. Because she didn't pass the health examination, she was taken back to Shaanxi Province and released on bail for medical treatment.
In September 2005, the captain of the State Security Team from the Yanta Police Branch in Xi'an, Dou Xiaozhou, and a group of police officers ransacked Ms. Li Changying's home and arrested her. They took her to a brainwashing center in the Chang'an District Worker Rehabilitation Center in Xi'an. The guards took turns pressuring and coaxing her in an effort to make her renounce Falun Gong. They resorted to many despicable means, including physical abuse and psychological torture. Later she was transferred to Yanta Detention Center. Three months later, she was "illegally sentenced" to two years in Xi'an Women's Force Labor Camp. Shortly after she arrived, Ms. Li's old illness returned, but it was not until her abdomen and legs became terribly swollen that the camp authorities released her.
After she returned home, the neighborhood office in Hongyan Community, Zhangjia Village, Xi'an, monitored her continuously. They assigned people to help "reform" her. The chairman of the neighborhood office, Chen Shuping (female), repeatedly harassed, threatened, and tried to brainwash Ms. Li. This put her and her family under enormous pressure. After eight years of suppression and persecution, Ms. Li Changying died on August 31, 2007.