The Persecution of Falun Gong Practitioners in Shanghai's Tilanqiao Prison is Still Brutal (Photo)
(Clearwisdom.net)
The term "technical treatment" is frequently used by Shanghai City's Tilanqiao Prison authorities to mean using all means to punish detainees, but leaving no evidence. Their methods are insidious,artful and venomous. One method they used very often is to deny the detainee any family visits, because they want to cover up the brutal persecution.
It is said that several Falun Gong practitioners, some of whom were isolated in the No.1 prison area, have been denied visits by their families. The local 610 office claims that it's because of bad behavior of the detained practitioners. During family visits between this April and May, some detained Falun Gong practitioners asked their family to bring winter clothes next time. Others told their loved ones that they would never give up, even at the expense of their life.
Tilanqiao Prison authorities always claim that they comply with the law and enforce laws without prejudice. They insist that the persecutions disclosed by Falun Gong practitioners are fabricated. However, the examples below will demonstrate how the old prison with a hundred years of history "rehabilitates" detainees during what is cynically called "the best period of human rights in China".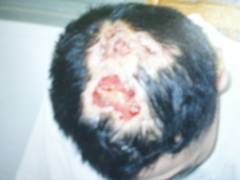 Mr. Xiong Wenqi's skull exposed from beating by a designated criminal in Tilanqiao Prison
In the No. 1 Prison area, Mr. Xiong Wenqi was monitored by four to eight felons who had been sentenced to suspended death or life imprisonment sentences. They split into two groups and took turns torturing Xiong Wenqi every two hours until Mr. Xiong was totally exhausted. In just one month of torture, Xiong Wenqi became skin and bones. However, the prison authorities tried to gloss over the facts by saying it stemmed from a hunger strike.
In order to win the title of "rehabilitation activist ", which means one is granted a reduction of sentence by one to two years, the goons forced Xiong Wenqi to sit on a plastic circular desk from 6:00 a.m. to 9:00 p.m., regardless of the fact that he was very weak and suffered muscular dystrophy.
The criminals also took off Xiong Wenqi's shoes and socks, and beat him on the soles of his feet until the wooden stick was broken. They said it hurt but would not leave a scar. Sometimes, they scratched his face using a broom, but told others that he scratched himself.
Encouraged by the guards, the criminals intensified the torture. They threatened that, "Now we do not need your cooperation. We will torture you so that if you die you will be lucky." They lifted him up and threw him to the ground or against the wall. They poked him in the ribs and lower back, and kicked his legs, knees and chest. They beat him black and blue all over his body.
Xiong Wenqi also experienced the tortures called "jet aircraft" and "simplified tiger bench", as well as forced feeding with a mixture of pepper and water from the toilet, which led to bronchitis and lung infections. Then he was taken to the prison hospital because his life was in danger.
Falun Gong practitioner Du Ting was also detained in the No. 1 Division. At the end of 2006, he contracted tuberculosis, but was not allowed a family visit. Mr. Lin Mingli, the brother of Canadian citizen Lin Shenli, was sentenced to six years imprisonment without any evidence or testimony. He was not allowed to see his family for several months due to claims of "bad behavior" in prison.
Another practitioner, Guo Jinfu, who was arrested in July 2006, was secretly sentenced to three years in prison and is serving his term in the No.1 area of Tilanqiao Prison without anyone informing his family. His wife and daughter are still not aware of his whereabouts.