Australia: "Understanding China Today" Forum Looks into Falun Gong Issue (Photos)
September 19, 2007 | By Chen Xinning
(Clearwisdom.net) On September 12, 2007, non-governmental organization Free China hosted a forum entitled "Understanding China Today" at the Power House in Brisbane, Australia. The guest speakers at the forum were former Canadian Member of Parliament and Secretary of State (Asia-Pacific) David Kilgour, Canadian human rights lawyer David Matas, and Executive Director of the Association for Asian Research (US) Zhang Erping.
David Matas: Falun Gong is the Major Victim of China's Human Rights Problem
Attorney David Matas said at the forum that to understand China today, one must understand China's human rights problem first. As China grows stronger and has more contact with other countries, Beijing authorities still trample human rights and the problem isn't improving.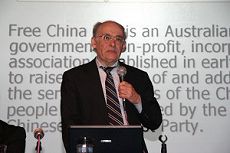 David Matas, renowned human rights lawyer
David Matas and David Kilgour published an investigation report which concluded that Falun Gong practitioners in China are forced to have their organs removed. Mr. Matas said that illegal organ removal started in 2000 and is still going on today. Most of the victims' organs are sold to foreigners and the rest of their bodies are cremated to leave no physical evidence. Matas' opinion is that the Falun Gong issue takes priority when considering human rights issues in China because two-thirds of the victims tortured in forced labor camps in China are Falun Gong practitioners, according to a United Nations report.
According to Mr. Matas, the Chinese Communist Party (CCP) uses the media to defame Falun Gong and block the Internet. The CCP also persecutes people who speak out for Falun Gong, for example well-known Chinese attorney Gao Zhisheng. The CCP continues to abuse its political power and has tagged Falun Gong as having political intentions and that it is "anti-China". However, Falun Gong isn't a political movement, nor is it an organized group, and it has no political agenda. It is the CCP that imprisons, tortures and kills Chinese people and also pollutes the environment in China. The CCP is the real anti-China force.
Mr. Matas also added that the CCP has extended its persecution of Falun Gong to other parts of the world, where Chinese Embassies and Consulates continue to monitor practitioners. According to a former Chinese consulate official in Sydney, Australia, 15 out of the 38 staff members in that consulate were employed full time to monitor and collect information about Falun Gong practitioners in Australia. One can see Chinese Consulates all over the world putting anti-Falun Gong propaganda material on their official websites. In conclusion, David Matas stressed that the global community should put pressure on the CCP to improve human rights in China.
David Kilgour: I Strongly Suggest Everyone to Stand Up and Speak Out For Falun Gong Practitioners
David Kilgour pointed out that the CCP has ordered its media to defame Falun Gong and deprive practitioners of their basic human rights since 1999. The entire country's media was encouraged to make up false propaganda to defame Falun Gong and mislead foreign media on this issue.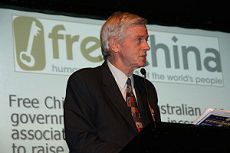 David Kilgour, former Canadian Secretary of State (Asia-Pacific)
Mr. Kilgour talked about the Falun Gong practitioners' behavior. He said that none of the practitioners, when arrested either at Tiananmen Square or at home, resorted to violence. One day when he tried to pick up a coin in a park in Athens, Greece, a practitioner told him he shouldn't take what isn't his. He couldn't believe people with such high morality are persecuted in China in the 21st century.
Mr. Kilgour said that the CCP has killed thousands of practitioners and sold their organs overseas for profit. In order to prepare for the Olympics in 2008, the CCP has forced over a million Beijing residents to leave their homes. The individuals and groups that boycott the Beijing 2008 Olympics are not against the Olympics, but are hoping to stop the persecution and violence in China. Mr. Kilgour called on everyone to speak out for Falun Gong practitioners in China.
Zhang Erping: The Development of the Internet Breaks the CCP's Blockade and Control Over Information
As the Internet develops rapidly today, many experts have been wondering why Beijing has been spending such enormous amounts of money to block and control the Internet. Mr. Zhang Erping, a Falun Gong practitioner and Executive Director of the Association for Asian Research, said that it was because media outlets are controlled by the government in China, and the Internet has become the only channel through which people can obtain information. The Internet is fast, convenient and inexpensive and has the advantage of immediate information sharing; thus, it has become a threat to the CCP's control of information.
Mr. Zhang said that the CCP not only does not obey the Universal Declaration of Human Rights it signed and its own laws to protect freedom of speech in its Constitution, but it also created 40 new laws to monitor communication and freedom of speech.
Mr. Zhang talked about the "Golden Shield Project", a high tech firewall to censor specific websites. He also mentioned that the CCP hired fifty thousand (50,000) Internet police to patrol and monitor information exchange on the Internet. The CCP has also set up 700 Internet Monitoring Centers in the country. Among the censored items in China, the book, "Nine Commentaries on the Communist Party book ranks number one, followed by Falun Gong, and the June 4 Massacre on Tiananmen Square. Underground Christian churches, Western media such as BBC, VOA and Wikipedia are censored as well.
Mr. Zhang also pointed out that free software developed in the U.S. has successfully penetrated the CCP's blockade and that people outside of China should let more Internet users in China know about this free software and help rescue those who were arrested because of legitimate Internet activities. Mr. Zhang thinks there is a need to use legal means to punish companies that sell technology and equipment to China's dictatorship.
Audience: The Forum Helps Us to Understand the CCP's Evil Nature
Terna from Nepal said that the forum provided a lot of information and broadened his horizons. Terna had heard about Falun Gong but didn't know about the brutal persecution. He thought the forum was successful and helped those who care about China's economy understand Chinese people's firm belief.
James Mackay from Ireland said that the three speakers' research allowed him to understand the current situation in China -- something that the world needs to know. Mr. Mackay was surprised that no one is trying to stop the CCP's violence.
Helene Muller, a student with a major in Asia studies, said that human rights are often forgotten in people's daily lives. After the forum, she thought people should care more about human rights in China. She was shocked by the Falun Gong practitioners' experiences and felt she should have brought more of her classmates.
John, a local radio station host, said that his station supports democracy and freedom of speech. A few weeks ago, he had interviewed several local Falun Gong practitioners. After coming to the forum, he thought that the Australian government needs to pay more attention to human rights in China.
Paul, a marine biologist, said that everyone should have human rights, and unfortunately people in China don't. Paul found it hard to understand why such a peaceful group as Falun Gong is seen as a major problem by the Chinese government and is being severely persecuted.