Chicago: 77-Year-old Practitioner Has Her Passport Confiscated When Leaving China - Returns to the U.S. Thanks to International Rescue Effort (Photos)
September 13, 2007 | By a Falun Dafa practitioner in Chicago
(Clearwisdom.net) With help from U.S. members of Congress, 77-year-old Ms. Li Jin was reunited with her son at the Chicago International Airport at 6:00 p.m. on September 10, 2007. Mother and son recounted their unusual experience over the past few months.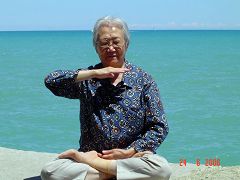 Seventy-seven year-old Ms. Li Jin has enjoyed good health after practicing Falun Gong
With help from U.S. members of Congress and fellow Falun Gong practitioners, Ms. Li Jin safely returns to the U.S.
Ms. Li Jin is a permanent resident of the United States and lives in Madison Heights, Michigan. She took a flight on the Korean Airline ASIANA on April 17, 2007 to Qingdao City, China to visit her brothers and sisters. When she was set to return to the U.S. on June 25, the Qingdao International Airport authorities refused to let her leave and confiscated her passport. The reason given for her detainment was "engaging in Falun Gong thought activities."
Li Jin's son Mr. Cui, who works at Chrysler, said that his mother arrived in Qingdao on April 18 and traveled to Xi'an City on April 28 to visit her old colleagues and friends. One day in early May, three police officers from the Shaanxi Provincial National Security Bureau found her. In the ensuing three weeks, the National Security Bureau officers came to see her twice, inquiring about the situation of Falun Gong outside of China. Ms. Li Jin told them about persecution of Falun Gong abroad, in hopes that they could understand the true picture of the persecution. Ms. Li did not expect that her kind intentions would become an excuse used by police to restrict her from leaving China.
Ms. Li Jin returned to Qingdao on May 27. The Shaanxi National Security police followed her to Qingdao, and asked Ms. Li to go back to Xi'an with them to "achieve a common understanding." Ms. Li refused to comply. An officer said that Ms. Li could not leave as scheduled, and her trip back would need to be delayed.
Mr. Cui said, "On June 25, at around 9:30 a.m., Ms. Li and her younger sister and brother-in-law, who came to see her off, went to the Qingdao International Airport. Her younger sister and brother-in-law helped her find a young lady who would take the same flight with Ms. Li to travel together with her, so that the young lady could help her find her way if she got lost. After getting her boarding pass, at 11:00 a.m., when they passed customs, Ms. Li and the young lady were summoned to a reception room. At about 11:30 a.m., the young lady asked the airport staff when they could board the plane. The officer said, 'She (Ms. Li) cannot leave. She has something to do with Falun Gong.' The young lady had to board the plane alone. Before leaving, the lady helped Ms. Li to make a phone call to ask her relatives to pick her up. Ms. Li waited in the room until about 1:30 p.m. Before leaving the place, she asked for her passport. The officer said that she had to get it back from Shandong Province National Public Security Bureau."
Ms. Li has been abroad for years, and all her children are outside of China. She was forced to stay in Qingdao, as she was unable to return to the U.S.
Mr. Cui said, "I found it almost inconceivable, and so did everyone I talked to. They stopped an elderly lady who is nearly 80 years old. What did they want to do to her?"
Mr. Cui called an officer surnamed Zhang at the National Public Security Bureau, asking why an elderly woman was prevented from leaving China. The officer could not give Mr. Cui any rationale, only that he had explained the situation already to Mr. Cui's older sister, who is in Japan.
Mr. Cui's older sister told Mr. Cui that the police thought that Ms. Li read things on Falun Gong websites and talked about them, so she has done harm to "the Party and the country", and they needed to "educate" her.
Mr. Cui said, "I was very worried about my mother at the time. I was worried about her health and safety. If anything happened to her, I wanted to find the officer who stopped my mother from leaving China and returning to the U.S. But they refused to tell me his full name."
Mr. Cui called the Qingdao International Airport, inquiring about the reason for confiscating Ms. Li's passport. A young man answered, "We asked the higher level officials, and the reply was, 'Your mother engaged in thought activities related to Falun Gong, and according to the relevant laws of the country, a temporary restriction was imposed on her and her documents were confiscated.'"
Mr. Cui sought help from the U.S. Embassy in Beijing. He also sought help from U.S. Congress members in Washington D.C. in July. With their help, on July 22, the Shaanxi Province National Public Security Bureau returned Ms. Li Jin's passport. After getting her passport, Ms. Li immediately booked a flight, but the earliest flight she could book was September 10. After getting off the plane, Ms. Li was very happy and thanked the local Falun Gong practitioners, who came to welcome her back.
Coordinator of the Central U.S. Falun Dafa Association Yang Sen said in an interview, "People have the right to belief, which is protected by China's Constitution. Is 'engaging in Falun Gong thought activities' a crime? The public security officials put in so much effort on an elderly lady in her seventies. Ms. Li practices the exercises for better health, without spending a penny of the country's money on medical expenses. But several police officers traveled from Xi'an to Qingdao twice, coupled with overseas special agents, Customs, and the computer tracking system. How much money has the country spent on all this? As human beings, we have the right to believe, and the right to have thoughts, and the right to maintain our dignity. It is not wrong to believe in 'Truthfulness-Compassion-Forbearance,' and the principle that good will be rewarded and bad deeds will be punished. The Chinese Communist Party, however, persecutes these good people and deprives them of these basic rights. How can we comply with it? In addition, we are very grateful to the U.S. Congress members who extended their help. They have truly done a very meaningful thing."