Vancouver, Canada: Stories from a Small Blue Shelter (Part 1) (Photos)
August 07, 2007 | By Vancouver practitioners
(Clearwisdom.net) All those who have been in Vancouver will have seen a very special sight: a row of large display boards in front of the Chinese Consulate on Granville Street. Banners reading, "Falun Dafa is Good," "Stop the Persecution, Bring Jiang to Justice," along with pictures depicting the Chinese Communist Party's organ harvesting from living Falun Gong practitioners, and Falun Gong practitioners being tortured. Next to the display boards there is a small blue shelter, about 2 square meters in size.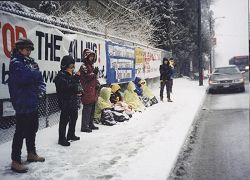 Falun Dafa practitioners from Vancouver protest peacefully in front of the Chinese Consulate around the clock, rain or shine
Falun Dafa practitioners from Vancouver have been protesting peacefully in front of the Chinese Consulate around the clock, rain or shine. Among them are pregnant women, men in their seventies, people coming by after work and people who are going to their full-time job after sitting the entire night in front of the Consulate. The protest has been ongoing for six years now, for 2,100 days and nights. Rain, snow or extreme heat have not stopped the practitioners from being there.
Granville Street is a main street in Vancouver, a busy thoroughfare with approximately 1,200 vehicles passing by per hour. Occasionally, one can hear drivers honking their horns to show support for the practitioners, or see motorists giving a supportive thumbs up. Some tour buses drive closely by this spot and the tourists on the buses wave to the protesting practitioners. This has become a unique spot in Vancouver, a place to learn about Falun Gong and the persecution of Falun Gong in China.
Why have practitioners continuously maintain this protest? How have they been able to do this for 2,100 days and nights? To answer this question, Falun Dafa practitioners from Vancouver shared their stories.
Two Ever Changing Numbers
The peaceful protests started on August 20, 2001, when alarming news was published about practitioners in China being brutally persecuted. Many practitioners outside China went to their local Chinese Embassies and Consulates to appeal for an end of the persecution. In Vancouver, after local practitioners organized a relay hunger strike for 300 hours, they decided to continue with an around-the-clock peaceful protest.
At the very beginning, practitioners just sat on the sidewalk in front of the Consulate. There was no shelter. Then they made a cover with some plastic sheeting, and later put up a wooden frame covered with corrugated blue plastic. The shelter enabled practitioners to keep some clothing and a music player for the exercises, a lamp, and informational materials about Falun Gong. They also provided some leaflets with directions to the visa office, which is not inside the Consulate, for the convenience of the people who need to apply for visas to China.
On the display board are two ever-changing numbers. One is the number of Falun Gong practitioners tortured to death and the other is the number of days that Vancouver practitioners have been protesting in front of the Chinese Consulate. This speaks of the practitioner's faith and their adherence to exposing the truth.
On July 2, 2007, it was confirmed that 3,062 Falun Gong practitioners have been tortured to death. Behind these statistics are real lives that have been lost. The number reminds people of the evil that is happening on the other side of the planet and is also a test of our conscience. Many people, engrossed in the hustle and bustle of their daily lives, do not even stop and think about things that are happening far away from them. The 24-hour peaceful protest held by practitioners in front of the Chinese Consulate is an urgent reminder: Please don't say that this persecution has nothing to do with you. Silence condones evil!