Toronto, Canada: Falun Dafa Nine-day Lecture Video Session Welcomed in the Chinese Community (Photos)
August 06, 2007 | By a practitioner in Toronto
(Clearwisdom.net) The Falun Dafa Assistance Center in Toronto, Canada held a Falun Dafa Nine-day Lecture Video Session, which concluded on July 31. Several dozen Chinese people listened to the lectures and learned the exercises. More people asked about the next session and hoped that it could be held in different parts of Toronto.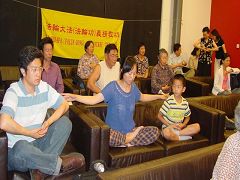 Session attendees learn the fifth exercise -- strengthening supernormal powers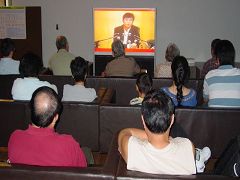 Attendees watch a video of Master Li's teaching
The Nine-day Lecture Video Session was held in the TV room of the University of Toronto Student Center in Scarborough. Each day of the nine-day session, a video of Master Li's teaching was played for one and a half hours, then Falun Gong practitioners offered free teaching of the exercises.
Practitioner Wang Shaochun said about the attendance of the session, that the participants' enthusiasm was unexpected because many Chinese people have been influenced by the negative propaganda of the Chinese Communist Party (CCP) and had misunderstandings about Falun Gong. This time, every day, more than thirty people came to learn.
The attendees felt that Falun Gong has a unique effect on healing and fitness. During the session, more people called to ask for information about the next session. Shaochun said, "The obvious interest indicates that more and more people do not believe the CCP's propaganda. We will hold more nine-day lecture sessions in Toronto to meet the need. We also plan to hold a nine-day lecture series in English for university students."
Mr. Xu, who came from Beijing and had cancer, started to learn Falun Gong a few months ago. It was his first time to listen to Master Li's nine-day lecture series. He said that the practice was good for his health, even though the CCP persecutes Falun Gong. He also worried that he would run into trouble for attending the session after returning to China. But because life is precious, and practicing Falun Dafa benefits health, he nonetheless came to attend the session.
Mr. Lin from Fujian Province, China said that he gained a lot from listening to the lectures and learned about the principles of Falun Gong.