Japan: Spreading the Fa at the 100th Anniversary of Tohoku University (Photos)
August 30, 2007 | By a practitioner from Japan
(Clearwisdom.net) Tohoku University in Sendai, Japan is very famous. This year is its 100th anniversary, and Falun Gong practitioners from Japan attended the celebration activities.
Learning the exercises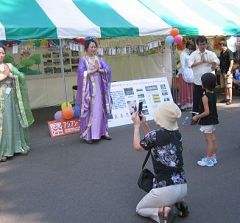 People take photos of practitioners.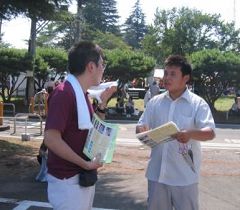 Clarifying the truth
Learning the exercises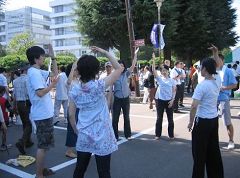 Learning the exercises
Learning the facts about Falun Gong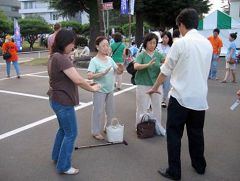 Learning the exercises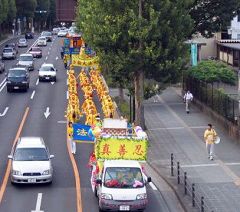 The parade
The parade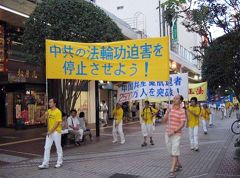 The parade
On August 25, 2007, foreign students from more than 70 countries shared their own cultures at the celebration. Falun Gong practitioners also had a booth. Practitioners showed the history of Falun Gong and how it has spread all over the world. They also demonstrated the exercises. Several practitioners passed out truth-clarifying materials and paper lotus flowers.
Many people asked for detailed information about Falun Gong and were interested in learning it. They were shocked when they heard about the brutal persecution. From teenagers to senior citizens, many came to learn the exercises throughout each day.
On the second day of the celebration, more than 100 practitioners demonstrated the exercises in a park in the morning. In the afternoon, they held a parade.
The float, which displayed a banner proclaiming, "Truthfulness-Compassion-Forbearance," led the parade. The waist drum team followed. Practitioners displayed many other banners, some of which read "Falun Dafa Is Good," "Falun Dafa Is Practiced throughout the World," "Stop the Persecution of Falun Gong," and "Falun Dafa Is Righteous." The celestial maiden dancing team was at the end of the parade. The spectators greeted and applauded the procession. Many people took photos of the parade.
At the picnic dinner held by the university, Falun Gong was a popular topic. Westerners asked why the Chinese Communist Party would persecute such a good group, while Taiwanese condemned the CCP's brutality and people from Mainland China learned many facts about Falun Gong.