Illegally Detained For Eight Years, Ms. Li Dongqing Needs to Be Released from Prison (Photo)
(Clearwisdom.net) Li Dongqing, a practitioner from Shenyang City, appealed for Falun Gong and clarified the truth. She has been detained since September 1999. She was first sentenced to forced labor for three years and detained in the notorious Masanjia Forced Labor Camp. When the three-year term was about to expire, she was again illegally sentenced, this time to five years, and was detained in Liaoning Province Women's Prison. During the eight years she has had to live in detention, Li Dongqing has been tortured in many ways, including being detained in a small cell, being brutally beaten, shocked by electric batons, and being humiliated. For almost the entire one and a half years, she was detained in a small cell. She has bruises all over her body and she was once delirious.
August 22, 2007, is the day that Ms. Li's term of detention expires. We would like to call on fellow practitioners to strengthen their righteous thoughts and actively rescue her.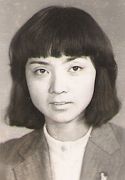 Li Donging
The following are the details of the persecution of Li Donging.
Ms. Li Dongqing was born in 1962 and lived on Suichuan Road in the Heping District, Shenyang City. She used to work as a lab technician at the Xinchenzi Chemical Factory in Shenyang. She lost her job in the 1990's due to the factory's declining finances.
Before she practiced Falun Gong, Ms. Li had all kinds of illnesses, including nephritis,dropsy, stomach problems, numbness in her body, cold hands and feet, difficulty working, difficulty walking up stairs, etc. Large medical bills and no income made it very difficult for her to live. In 1996, Li Dongqing started cultivating Falun Gong. Not long after this, she noticed all her diseases were gone, and her life began to improve.
Beginning on July 20, 1999, Jiang and the CCP started to persecute Falun Gong. Based on the fact that she had benefited from practicing Falun Dafa, Li Dongqing went to Beijing to appeal, but before she arrived at the municipal bureau, the police intercepted her and took her to Shenyang Liaison Office in Beijing and "illegally detained" her. On the following day, the Suichuan Police Station sent someone to Beijing to bring Ms. Li back to Shenyang. They immediately sent her to a detention center and detained her there for 15 days. After 15 days, they sent her to Masanjia Forced Labor Camp for another three years of detention. Her family was not notified.
In Masanjia Forced Labor Camp, Li Dongqing often told the guards and the prisoners the true facts of Falun Dafa, and refused the guards' unreasonable requests and regulations. She encountered hundreds instances of mistreatment, physical abuse, verbal abuse, terrible beatings, humiliation, etc. Su Jing, head of the Women's No. 2 Detention Center, led the guards in this abuse. During October 2001 and May 2002, Li Dongqing spent nearly 90 percent of the time in a small cell. People living their normal lives cannot imagine how the practitioners spend every single day in terror in an environment so full of violence and extreme humiliation.
In September 2002, her three-year labor term was up, and Masanjia Labor Camp should have released her, however Masanjia Camp authorities fabricated additional charges and illegally prosecuted her. On August 22, Shenyang City Middle Court and the Procuratorate held a so-called "litigation" in Masanjia. They illegally sentenced Li Dongqing to another five years, and prohibited her from pleading, petitioning, appealing or sending notice to her family. There were another two practitioners, Li Liming and Sun Caihong, who were sentenced along with Li Dongqing on the same day. The three of them were detained in Shenyang City Detention Center (address: Wangshi Village, Sujiatun District, south of Shenyang City) for over a month before they were transferred to Shenyang Dabei Women's Prison. They all held hunger strikes at the time.
In late December 2002, Li Dongqing got acute hepatitis at Dabei Women's Prison. It was contagious. Certain prison personnel at one time wanted to let Ms. Li out of prison to see a doctor, but Suichuan Police Station in the Heping District refused to accept her, claiming, "We won't be able to control her if she comes back." So she has been detained and tortured there ever since.
In early 2003,Li Dongqing once held a hunger and water strike to protest the persecution. She refused to admit that she was guilty and refused to wear the prison clothing. She also refused the prison quilt and refused to eat the prison food. (Actually, the food was purchased by the prisoners' families). She repeated requested, "Restore Falun Dafa's name," "Restore Master's good reputation," and "Falun Dafa is the righteous law" every day. There were two to four prisoners monitoring her. Because she did not obey the unreasonable demands made on practitioners, she was often cursed at, beaten and shocked with electric batons. The prison officials thought that she was abnormal at the time. Li Dongqing is presently in poor health and has dropsy that sometimes is worse than other times. In recent years, we have hardly obtained any news about her.
We have heard that Li Dongqing's parents were in their eighties three years ago. Her daughter was still very young when Ms. Li was first arrested in September 1999. During the long eight years, she has grown up without her mother.
We appeal to all practitioners and all kind people: Please help to urgently rescue Li Donqqing so she can return to normal life as soon as possible.
August 6, 2007