Falun Gong Practitioner Yang Congmei and Her Family Suffer from Persecution (Photos)
(Clearwisdom.net) Ms. Yang Congmei lives in Hetun Village, Xinmin Town, Xindu District, Chengdu City, Sichuan Province. She was held in the Chengdu Detention Center in 2003 because she was involved in a criminal matter, and this is where she met Falun Gong practitioners and started practicing Falun Gong. Since then, she has conducted herself according to the principles of "Truthfulness-Compassion-Tolerance" and tried to be a good person. She benefited physically and mentally from the practice and actively "clarified the truth" to other people.
At around 10:00 a.m. on April 4, 2007, more than ten agents from the Xingdu District Police Department, the 610 Office of the National Security Division, and the Sanhe Police Station rushed into Yang Congmei's barbershop. They pushed her down to the ground and arrested her. Without showing any legal papers, they searched her home and confiscated two boxes of the Nine Commentaries on the Communist Party and 100 CDs.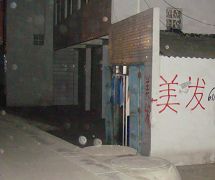 Yang Congmei's barbershop at Dajian Road, Sanhe Town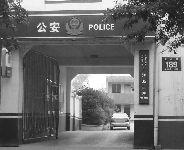 Sanhe Police Station in Xindu District
Ms. Yang Congmei was taken to the second floor of the Sanhe Police Station. She was handcuffed, shackled to a chair and hog-tied. She was in this position for over 50 hours without any food or drink. Police from the National Security Division interrogated her every day.
Later, Ms. Yang was sent to the Jinniu District Brainwashing Center at Guojing Road, Tasui Village, Jinniu District. Because she refused to "confess," they ruthlessly tortured her. She was handcuffed and shackled to a metal bed, and forced to sit like this on the floor for over ten days. Every day police officers from the National Security Division took turns interrogating her. They lashed her head and feet with twigs. Sometimes they hung her from a metal window bar, or handcuffed her to the foot of the bed and then forced her feet onto a stool, which was called tiger bench torture.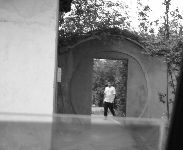 The hidden Jinniu District Brainwashing Center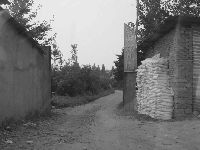 Entrance to the Jinniu District Brainwashing Center
The brainwashing center is completely concealed, without any sign at the entrance. To deal with the steadfast practitioners, several security persons and so-called "education helpers" were hired. One of them was Ouyang Hong from Hehuaci, who was the most sinister and vicious. She poked practitioners with needles and hit practitioners' faces with the bottoms of her shoes. She beat Yang Congmei, too. An over 70-year-old woman was detained there. One of the practitioners became dehydrated from the torture. There were several staff members in the brainwashing class.
Yang Congmei's parents went to Sanhe Police Station to inquire about her whereabouts and were told she was taken by people from the Xindu Police Department. When they inquired at the National Security Division of the Xindu Police Department, a young female police officer rudely said, "Yes, we arrested her, but I don't know where she is. Even if I knew, I would not tell you." Yang's parent wanted to see their daughter and bring her a change of clothes. Their request was refused.
On April 17, 2007, Yang's family members once again went to the Xindu Police Department but weren't told any news about her. They also couldn't give her a change of clothes. When asked why they didn't obey the law, the police answered, "We didn't ask you to bring her any clothes. Falun Gong is a special case. Special cases are treated specially."
After being tortured and interrogated for over ten days in the Jinniu District Brainwashing Center, Ms. Yang Congmei was taken to the Xindu District Detention Center on April 28, 2007. Sanhe Police Station agents then informed her parents that she was detained for "using an xx religion to interfere with law implementation." The detention paper didn't indicate the length of the detention nor the names of those in charge of the case. The section, "Note the reason for not informing the detainee's family or work unit of this notice after 24 hours" was left blank. There was only a seal on the document from the "Xindu District Police Department of the Chengdu Police Department."
On May 8, 2007, Ms. Yang's parents were taken to the Xinmin Town Police Station for questioning. On May 9, when Yang Congmei's sister-in-law and Yang's mother were going out, more than ten police officers arrived at their home. The police intimidated Yang's sister-in-law, "Where are you going to take your mother-in-law? Don't take her anywhere, or you will be arrested."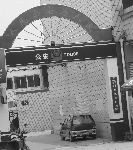 Xinmin Town Police Station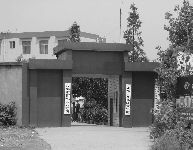 Xindu District Detention Center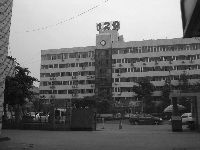 People's Hospital of Xindu District
Yang Congmei has a sister named Yang Congqing, who was arrested on June 29, 2005, as she distributed truth-clarifying materials. During her incarceration at the Damaqiao Detention Center in Xindu District, the persecutors put her in handcuffs and shackles, making her unable to stand straight and unable to dress herself. Police officer Zhang Hui yelled, "No release unless you confess, show regret and write the guarantee statement." Later, they sentenced Yang Congqing to three years in jail and locked her up in the Yangmahe Women's Prison in Jianyang.
Yang Congmei's husband works in another province. Her mother-in-law is blind. Yang had often visited her and taken care of her. Since her incarceration the two parents-in-law were left alone. In late May, her mother-in-law went to the Sanhe Police Station to ask for her daughter-in-law's release, but the police scolded her. They not only didn't release Yang, but also detained the person who kindly helped the older lady to get there.
After Yang Congmei's husband found out about the situation, he quit his job and returned. Agents from the Qiuchi Town Police Station in Bengchou City arrested him on June 18, a few days after he had arrived home.
Ms. Yang Congmei started a protest hunger strike. Her life was eventually in peril and she ended up in the People's Hospital in Xindu District.
On June 19, the police rudely refused Ms. Yang's mother Fan Xiuying access to her daughter at the People's Hospital. They called "110" officers who took the older lady to a police car and then to the Xindu Police Department. She was held in the police car and scolded and threatened. The frightened old lady limped home, arriving after midnight. Her feet and hands were swollen and bruised, and she hurt everywhere.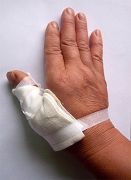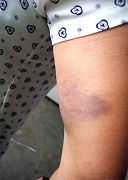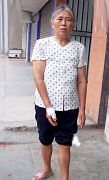 Photos of Fan Xiuying, who was beaten by police: Photos show her injured hand, bruised arm, and swollen foot.
After Yang Congmei's father kept pleading, Xinmin Town Party head Liu Qingquan and cadres from the Hetun Division agreed to talk to the related branches. On July 13 and 14, Yang's parents finally saw their daughter at the Xindu County Hospital. Ms. Yang was in critical condition, with dark circles around her eyes, dark lips and a pale face. Nonetheless, she was still shackled.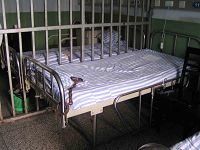 Shackles on the hospital bed restraining Yang Congmei, whose life is in danger
Yang's father kept asking for his daughter's release. The police said, "You can see her, but we cannot release her. If she dies of hunger, it has nothing to do with us."
In order to shirk their responsibility, on the afternoon of July 17, 2007, officials from the Xindu District Police Branch and from the Sanhe Police Station took Ms. Yang Congmei back to her parent's house at Hetun, Xinmin Town. However, the house was under watch around the clock. Yang Congmei was not allowed to leave the house, and other people were not allowed to visit her, which made her parents' house like a prison. It greatly hurt the family. Yang Congmei continued to protest through a hunger strike.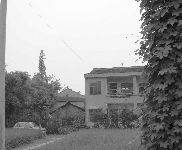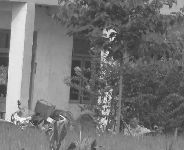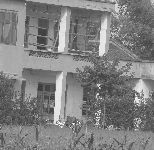 Ms. Yang Congmei's parents house under 24-hour surveillance
Related personnel and work units:
Wu Jingmei, Xindu District Police Department: 86-13438067700 (Cell)
Chen Dequan, head of the Xindu District National Security Division: 86-13608171360 (Cell)
Tan Yi, deputy head of the Xindu District National Security Division: 86-28-89122522

Sanhe Police Station in Xindu District:
Wang Yidong, head of the Sanhe Police Station: 86-13908089116 (Cell)
Zheng Bo, deputy head: 86-13881788033 (Cell)
Liu Can, political head: 86-13980797567 (Cell)
Song Jianping (personally involved in arresting Yang Congmei), Wu Shaohua (in charge of Yang Congmei's case), Liu Heng (political head), Wu Fengcheng, Wu Bing
Xindu District Detention Center:
Huang Ping (detention center head), Gou Shiping (deputy head), Xiong Wei (deputy head), Zhang Xingqun (deputy head), Yuan Shuwen (police officer), Zhou Zhongguo (police officer)
Xinmin Town Police Station:
Zhang Wenwu, police station head: 86-28-83075005, 86-13908229566 (Cell), 86-13540625888 (Cell)
Xinmin Town Government: 86-28-83075739, 83075017
Liu Xuemin (head of Xinmin Town), Shi Jingchang (deputy head), Xu Fei (deputy head)
Chen Zhenming (Party Committee head), Liu Qingquan (Party Committee head, in charge of Falun Gong)
Huang Xuecai, Party Committee head of Hetun Village, Xinmin Town
People's Hospital in the Xindu District: 86-28-83972235, 83972235