Prisons and Labor Camps in Shanghai Continue to Produce Large Quantities of Products for Export with Forced Labor (Photos)
(Clearwisdom.net) Shanghai is a city that shines with beauty and prosperity in many respects, for foreigners and Chinese people alike. In terms of science or culture, it appears to be a modern, civilized city. The city attempts to keep in line with the economies of international democratic societies and to demonstrate the city's civilization and freedom. Shanghai has become an icon for China and a dynamic showcase for China' s Communist Party foreign propaganda. However, if you pay a bit more attention and look behind the sumptuous, glossy veneer you will realize that Shanghai is a surprisingly sordid and filthy place. It has a sinister and vicious mentality, and is a place where great crimes are committed with the protection of power and money.
Shanghai's civil servants working in the judiciary system are highly paid. A police officer's income, working in the section in charge of the production in a prison, plus his bonus, amounts to over 10,000 yuan per month. The detainees, who are deprived of all freedom and who have to work over 15 hours a day, are their "ready source of money" and money-making "machine." That is why the lives of detainees or criminals in those prisons and labor camps are so hard, like that of slaves. But to hide their self-interests, the Chinese Communist Party (CCP), pompously claims that all they do is "reform" people. The CCP uses all manner of deceptive tactics to force those who have lost their liberty to create wealth for them.
Though we are in the hot summer season right now, production is still hectic in Shanghai's prisons and labor camps. Goods are daily transported in and out. Orders for which some outside enterprises have failed to meet the deadline have been brought here since the inmates have no days off. What are their working and living conditions like? In a big workshop several hundred square meters (500 m2 = 5382 ft2) large there are only ten-odd fans. People are sweating profusely, trying to finish their assigned quotas. The temperature can be as high as 38-39 0C (102 0F). The authorities might allow the inmates to have a short break right on the grounds of the workshop so they could cope with the heat, plus place some blocks of ice here and there, which is considered treating them with "care and humanity."
If the detainees fail to finish their daily quotas, they will be punished by such measures as being forbidden to take a shower, being forced to keep working after others have finished, or suffering a sitting punishment after work and deprivation of sleep, and others. This is an example of what it means to lose one's liberty and get sentenced to prison.
Slave labor-produced goods in Shanghai prisons and labor camps are destined for export to Western countries every day. One of the many stuffed toys for export carries the brand name of "GOFFA." This toy company is registered in Brooklyn, NY, USA, at the following address:
Goffa International Corporation, 930 Flushing Avenue, Brooklyn, NY 11206. The toys' labels carry the wording, "RECOMMENDED FOR CHILDREN."
Among the many garments for export is a line of pajamas with the brand name, "TOPVALU." The label indicates they are for a Japanese Company called AEON, (http://www.aeon.info/en/aboutaeon/); the hotline number listed on the label is 0120-28-4196.
Shanghai's prisons and labor camps constantly produce huge quantities of goods under various brand names.
Shanghai Xinhua Toy and Gifts, Ltd. have contracted 120 of the inmates at Shanghai Women's Labor Camp to work for the company, whereas the company only has 80 officially registered employees.
Shanghai Xinhua Toy and Gifts, Ltd.
Legal person/responsible person: Ye Hong
Type of enterprise: Joint Venture
Main business: Toy Manufacture
Registered capital: 210,000 Yuan
Phone (fax): 86-21-64500863
Address: 189, Huxing Road, Qibao County, Minxing District, Shanghai, Post code: 201109
Phone: 86-21-64500863, 64781161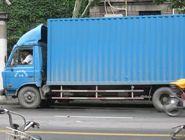 An enclosed freight truck parked at the entrance to the Tilanqiao Prison in Shanghai
| | |
| --- | --- |
| Shanghai Prison Administration Bureau | Front gate at the Tilanqiao Prison in Shanghai |
| | |
| --- | --- |
| Reception area of the Tilanqiao Prison at Kunming Road | Reception area for visiting family members of inmates (a former meeting hall) |
The prisons and labor camps use all kinds of methods to maximally extort sweat and blood from the detainees. At the same time, the CCP uses its power to attack and destroy the values and morality of traditional Chinese society. It has destroyed the Chinese people's kindness and treats people who believe in "Truthfulness-Compassion-Forbearance" as enemies. The CCP encourages people nationwide to believe in striving for money; the loss of conscience has led to all kinds of social problems. China's false image of economic prosperity and the widespread use of forced labor and cheap manufactured products has sent shock waves through the international trade market's normal operations.
We hope the international community will not be confused by the CCP's mask and will come to truly understand what is happening in China, and with a sense of justice and conscience, help stop the human rights abuses in China.