Chinese Classical Dance Competition Extends A Stage to The World (Photos)
(Clearwisdom.net) On July 6, New Tang Dynasty TV's International Chinese Classical Dance Competition began at the Skirball Center for the Performing Arts at New York University (NYU). The contestants graced the stage with intricate dance movements and tumbling moves that kept the audience on the edge of their seats.
Contestant No. 8
Contestant No. 25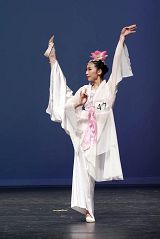 Contestant No. 47
The President of NTDTV, Zhong Lee, said that the competition attracted dancers from the U.S., Mainland China, Hong Kong, Taiwan, Korea, Japan, Australia and Europe. He hoped that the competition would create more interest in Classical Dance and showcase the essence of the Dance.
In the preliminary round, each contestant performed one minute of required movements and two-minutes of individual choice. The contestants' performances were greatly varied, and included martial arts, Chinese drama, Dunhuang Music Dance, Folk Dance, and more. The topics varied from legends, historical stories, and seasonal wonders.
Contestant No. 46, Ni Ciaoyan, is a recognized dancer in Mainland China who has received a number of prominent national and provincial awards. She said: "The required movements of the Competition include many challenges. In my individual choice program, I will depict a traditional Chinese intellectual. With my dancing skills, I will try to portray his lofty demeanor and the essence of Confucian culture."
Ms. Ni said that the most important thing was that the Competition provided her a challenge to advance to a higher realm in dance. She believed that the Competition is a great idea, as it not only showcases Chinese Classical Dance, but also provides a world stage for all classical Chinese dancers.
Singapore contestant Cai Liang [phonetic] said that the preliminary round was great. He said that the Competition was a great experience and he had learned many good things from other contestants.
Contestant Liang Min is 19 years old and is a graduate of the Guilin School of Dancing Art. In order to participate in this Competition, her family immigrated to the U.S. from China and just entered the country on July 4. Ms. Liang has studied Chinese Classical Dance and Folk Dance for 7 years and has received many prominent awards. She said that she felt very lucky to be able to participate in the Competition and was confident she would present her best skills.
The Competition has received high marks from professionals and elected officials.
Mario G. Racco, a member of the Legislative Assembly of Ontario and assistant minister of Labor Ministry, sent his best wishes to the contestants and their families. He said: "I know that this is a very important competition for all contestants and their family members. I wish all of them success and happiness. Enjoy New York City!"
Vaughan (Ontario, Canada) Councillor Sandra Yeugn Racco said: "We need cultural exchanges of this kind. Not only Chinese, but people around the world need these in order to understand Chinese people and Chinese culture. Through such performances, you will learn many things about history. We need to know history in order to advance and achieve self-perfection."