Falun Gong Practitioners Rally in Atlanta to Support Withdrawing from the CCP on "July 1 Global Quitting the CCP Day" (Photos)
July 07, 2007 | By a Falun Dafa Practitioner in Atlanta
(Clearwisdom.net) July 1 was the Global Quitting the CCP [Chinese Communist Party] Day and July is the Global Quitting the CCP Month. Accordingly, the Global Center for Quitting the CCP in Atlanta and Falun Gong practitioners held a rally in Atlanta to support the twenty-three million brave people who have quit the CCP, and to expose the CCP's crimes of harvesting organs from living Falun Gong practitioners for profit. Falun Gong practitioners displayed pictures of the persecution and called for people from all walks of life to help stop the atrocities of the CCP.
Rally in Atlanta in support of quitting the CCP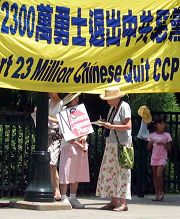 Passersby sign to support withdrawing from the CCP and stopping the persecution
The location of the rally was very close to three tourist spots in Atlanta: the Centennial Olympic Park, CNN Headquarters and the largest aquarium in America. Crowds of tourists were at all three places.
Banners at the rally stated, "Global Quit the CCP Month - Quitting the CCP Is A Step Toward Disintegrating the CCP," "Support 23 Million Chinese Quitting CCP," "80 Million Chinese Killed by the CCP," "Don't Be Buried with the CCP," and "The Evil CCP Has Been Uprooted - What Are You Waiting For?" Many tourists and passersby stopped to watch.
A family of four tourists was shocked to learn of the tortures and organ harvesting against Falun Gong practitioners. They were unhappy that the big American companies were doing business with such a corrupt, violent regime. They expressed their sympathy and hope that it would end as soon as possible.
One Christian woman said, "I will certainly pray for you to stop the persecution. I will tell my family and friends about it and asked them to pray with me..."
An employee of a soft drink company said he had heard about the persecution and suggested more media coverage. More people should know about the true story in China.
Seventy-five year-old Ms. Yao is a Christian. She attended the rally and said even though she wasn't a Falun Gong practitioner, she was a Christian, like attorney Gao Zhisheng. When facing the evil persecution of attorney Gao and Falun Gong practitioners, she felt she had an obligation to stand up for justice. The CCP has launched many political movements to persecute righteous faith and it has taken many lives. Now it is persecuting Falun Gong, harvesting organs from living people and persecuting Christian as well. Ms. Yao said, "I am here today though it is hot and I am old. I feel I should come to express my wishes."