Peru: Falun Gong Practitioners Condemn the CCP in Lima's Chinese Community (Photos)
July 06, 2007 | By a practitioner in Peru
(Clearwisdom.net) Falun Gong practitioners in Peru held set up photo display and banners on Capon Street in the Chinese community in Lima on July 1, 2007, to expose the persecution of Falun Gong and the Chinese people by the Chinese Communist Party (CCP) and to strongly condemn the deportation of Falun Gong practitioners by the Hong Kong government under the CCP's coercion. July 1 happened to be Global Quit the CCP Day. Falun Gong practitioners told people about the 23 million people that have already quit the CCP with banners and posters. They called for people to see clearly the evil nature of the CCP and to resist its lies and violence.
Practitioners' activity on Capon Street draws people's attention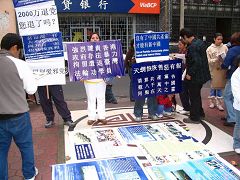 Practitioners support quitting the CCP
People showed great interest in the strong tide of quitting the CCP in China after seeing the photos and posters. Many tourists took pictures and showed their support.