Taiwan: Activities Held in Taichung to Call for an End to the Persecution (Photos)
(Clearwisdom.net)
Taichung candlelight vigil calls for an end to the persecution 
On July 20, central Taiwan Falun Gong practitioners held a series of activities in Taichung to mark the eighth anniversary of the persecution of Falun Gong and to urge the public to take action to end it. The activities included a press conference, a Falun Gong exercise demonstration, Divine Land Marching Band performance and a candlelight vigil. When asked how long activities of this kind will last, Falun Dafa Taiwan Association representative Professor Ai Chang-Rwei said, "We will continue until the persecution ends."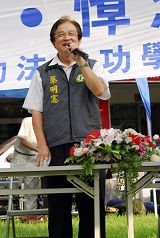 Former deputy defense minister Tsai Min-Syan acknowledges practitioners' noble efforts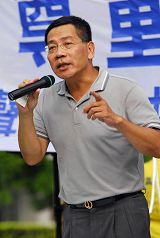 Former Taichung County legislative member Jyan Jao-Dung said that the persecution of such a peaceful group was not acceptable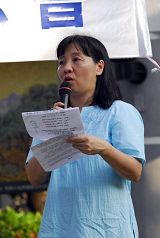 Economics Associate Professor Jung Gu-Lan of Tunghai University hopes that the persecution will soon end

Professor Ai Chang-Rui from National Chung Cheng University calls for an end to the persecution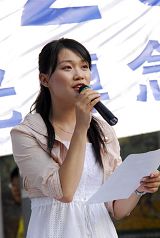 Jen Yi-Chen, president of Cheng-Kung University Falun Dafa Club gives a speech representing university students

At the practitioners' press conference, former Deputy Defense Minister Tsai Min-Syan said that he had participated in several Falun Gong activities in large American cities. On one occasion, he witnessed how respectfully American police treated Falun Gong practitioners. A Chinese Embassy official requested an on-duty American policeman to eject Falun Gong practitioners who were conducting a protest in the small park outside the Chinese Embassy in Washington DC. The policeman replied: "They haven't violated the law. This is their freedom." Mr. Tsai said that he was deeply impressed by Falun Gong practitioners' persistence, as they have been protesting outside the Chinese Embassy in the U.S. every day and clarifying the facts of the persecution tirelessly.
Former Taichung County legislative member Jyan Jao-Dung said that he could always feel the serenity of cultivation at Falun Gong practitioners' public practice sites. As a practicing doctor and an elected representative, he said that he could not understand why the CCP would persecute such a peaceful meditation group and he would continue to support Falun Gong.
Professor Ai Chang-Rui of National Chung Cheng University and Associate Professor Jung Gu-Lan of Tunghai University both hoped that the persecution would end soon so that they would not need to attend another press conference of this kind next year. They said that they were confident that the end of the persecution is coming soon and the practitioners' rational approach would prevail.
Professor Ai Chang-Rui said that he started to practice Falun Gong before the persecution began in 1999. When the CCP started the persecution, his colleagues wondered whether he would continue to practice. However, through practitioners' persistent peaceful appeals and truth-clarifying efforts, he noticed that his colleagues had changed and they now all realized the wicked nature of the CCP and recognized practitioners' peaceful and rational resistance to the persecution.
On behalf of university students, Jen Yi-Chen, president of the Cheng-Kung University Falun Dafa Club, gave a speech during the press conference to voice students' support for Falun Gong. She said that Taiwan college students can freely practice Falun Gong while students in Mainland China were subjected to brainwashing by the CCP's propaganda and could be expelled if they try to look for the truth or practice Falun Gong. She urged all young Taiwan college students to help end this persecution.
Several hundred practitioners in yellow T-shirts demonstrated the Falun Gong exercises, attracting many passersby. Mr. Wu watched the demonstration with interest and said that the Falun Gong exercises are very peaceful and the practice is good for both the mind and body. Regarding the persecution, he said that he fully supports the practice and is against the CCP's violation of people's basic rights.
An English tourist was very upset when she learned what was going on. She said that she would spread the information she learned through the Internet to let more Westerners know about the persecution.