Sharing on Reading Zhuan Falun Wins Second Place at the All-Taiwan High School Internet Reading Club Competition (Photos)
(Clearwisdom.net) Hung Yu-Ting, 15, is a freshman at Hsin Hsing Senior High School in Taiwan. She has been practicing Falun Gong for six years. Before she practiced Falun Gong, she was frequently sick and depressed. After she started to practice with her mother, she changed a lot both physically and mentally. When she heard about the annual writing competition of the All-Taiwan Senior High School Internet Reading Club, she wrote about her experience reading Zhuan Falun and won second place in the freshman group.
Hung Yu-Ting won second place at the All-Taiwan High School Internet Reading Club Competition
Yu-Ting told us that she set a high standard for herself ever since she was a small child, but she didn't realize that she used the same high standard for judging others. Before she practiced Falun Gong, she was a bit arrogant and always wanted to tell others what to do. Although she was eager to help, she was often ignored. After she started practicing Falun Gong, she realized that she should focus only on her own feelings. She slowly adjusted herself to look at matters more from others' point of view and learned to listen. Now people find it much easier to accept her.
Yu-Ting is very grateful to Mr. Li Hongzhi. She knows now that she should behave according to "Truthfulness-Compassion-Tolerance," and many things have turned out to be simpler than before. Her parents, brother, and sister also practice Falun Gong. Yu-Ting feels so lucky that her family life is happy and harmonious.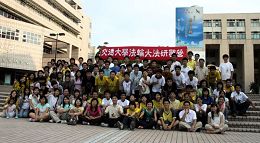 Falun Dafa Study Camp for College and High School Students, Chiao Tung University, 2005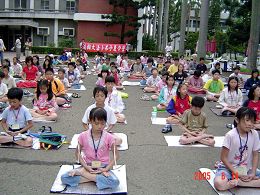 Falun Gong is popular on Taiwan campuses. In the past seven years, many counties and cities in Taiwan have held Falun Dafa Study Camps for school teachers during the summer and winter holidays. This has helped many teachers integrate "Truthfulness-Compassion-Tolerance" into their daily teaching. Since many education officers, school principals and teachers endorse the study camps, credits are issued to study camp participants. Many school principals, inspectors, directors, and teachers come to practice Falun Gong. Many Falun Dafa clubs have been set up in colleges and universities. Now there are about sixty or seventy such clubs. From Yu-Ting's sharing, we can see that Falun Gong teaches her to be a good student and person who follows "Truthfulness-Compassion-Tolerance." Hundreds of thousands of practitioners have improved their health and morality by following these principles.