Malaysia: Practitioners Protest Bo Xilai's Crimes in the Persecution of Falun Gong During His Visit to Kuala Lumpur (Photos)
July 20, 2007 | By a practitioner in Malaysia
(Clearwisdom.net) Bo Xilai, a top level Chinese official, has been visiting Malyasia since July 13, 2007. Bo is one of the key perpetrators of the persecution of Falun Gong. On the evening of July 14, Falun Gong practitioners held a protest to raise awareness of Bo's crimes in the persecution of Falun Gong. The protest occurred outside the hotel where Chinese Ambassador Cheng Yinghua was hosting a reception for Bo.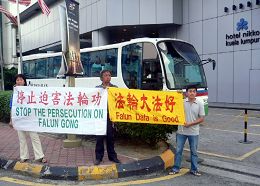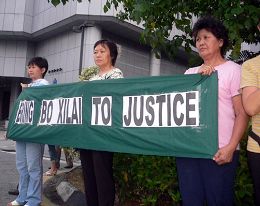 Protesting Bo Xilai for his atrocities in the persecution of Falun Gong
Around 7 p.m., no doubt pressured by China embassy officials, two police officers asked the practitioners to wrap up their banners. The practitioners explained the purpose of the protest. The police stubbornly wanted them to take down the banners, so they did, and then patiently awaited the arrival of Bo's motorcade.
After a while, a police siren was heard and Bo's motorcade approached. The practitioners unfurled their banners in protest. Though police stepped up to stop them, the practitioners were able to have their banners displayed. One woman noticed that officials inside the passing car looked out as practitioners shouted, "Falun Dafa is good!"
One practitioner later said that he asked a policeman who wanted to take down his banner, "Ten years from now, if your son or grandson reads the history of the persecution of Falun Gong, what you will say when they ask you what you did now?" The policeman was shocked and did not grab the practitioner's banner. The practitioner said he reminded the police not to submit to the pressure to commit wrongdoings. Everyone must bear responsibility for what they have done.
Practitioners held banners worded, "CCP: Stop the persecution of Falun Gong," "Bring Bo Xilai to justice," and "Falun Dafa is Good" and waited for Bo's motorcade to pass. Passers-by asked about the persecution. A taxi driver looked at the photos exposing the persecution and was shocked. He asked the practitioners what he could do to help stop the persecution. Some passers-by asked why the police did not allow practitioners to hold banners. The practitioners explained the facts, exposed Bo's crimes, and told them about the lawsuits he faces in many countries.
Practitioners believe that the forced removal of a billboard worded "Falun Dafa is Good" beside the busy road in Kuala Lumpur was related to Bo's visit. The billboard had been up for years.
Bo Xilai followed Jiang Zemin in the persecution of Falun Gong when he was governor of Liaoning Province and mayor of Dalian City. He faces lawsuits in the USA, Canada, the UK, Germany, Ireland, New Zealand, Russia, Australia, Korea, and Spain for torture and other crimes against humanity.