Ms. Zhou Zi Suffering Abuse in Beijing Women's Prison, Her Parents Visit Eleven Times to Seek Her Release
(Clearwisdom.net) Falun Gong practitioner Dong Cuifang was persecuted to death in the Beijing Women's Prison recently (http://www.clearwisdom.net/emh/articles/2007/6/18/86873.html). Right now the prison is again intentionally covering for the jail warden who has beaten and abused Falun Gong practitioners Zhou Zi, Li Guiping, and others. Zhou Zi's parents went to the prison eleven times in a month to request an investigation of the abuse of Zhou Zi, but the prison officials did not give a single satisfactory answer. "The prison just covers up and push the responsibility to others. They try to hide the truth and delay the investigation as long as possible. If they did not do really bad things, why would they need to hide and cover things up?" said Ms. Zhou's parents.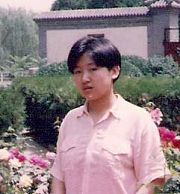 Falun Gong Practitioner Ms. Zhou Zi
Falun Gong practitioner Zhou Zi is being held in the Beijing Women's Prison. In late January, she was brutally beaten by warden Zheng Yumei in the tenth prison district. Ms. Zhou requested the prison to punish Zheng Yumei according to the law, but the vice-warden of the prison, Zhou Ying, (in charge of persecuting Falun Gong practitioners) covered up for Zheng Yumei. Zhou Zi went on a hunger strike to protest the persecution. As of now the hunger strike has lasted for more than 100 days.
Zhou Zi's parents are both over sixty and are extremely worried about her. Since early March, Zhou Zi's parents have called the tenth prison district and the prison administration office many times, but they did not get any information. Zheng Yumei told the police who answered the telephone not to disclose any information, especially that Zhou Zi has already been locked in the disciplinary team. The police continuously deceived Zhou Zi's parents.
From early March to mid-June, Ms. Zhou's parents repeatedly visited the Beijing Women's Prison to request punishment of the police who abused their daughter. For every visit, they had to get up at 4 o'clock in the morning, travel more than 200 kilometers, and spend more than 8 hours on the road. Every time they suffered hunger, thirst and anxiety. However, they were never allowed to see Ms. Zhou and never got a satisfactory answer from prison officials.
Zhou Zi's parents attempted to see the prison administrator Li Ruihua, according to the instructions for the "Prison Warden Reception Day" on the prison bulletin. Every time they waited for close to 3 hours in vain. Li Ruihua never showed up. After returning home, Zhou Zi's parents wrote a letter to Li Ruihua and used express delivery. Later they wrote two more letters and asked the supervision section supervisor Tang and prison administration section supervisor Xing Hongjun to deliver the letters in person to Li Ruihua. At the time of this report, Li Ruihua has not responded.
The prison administration section supervisor Tang agreed to Zhou Zi's parents' request, but two weeks later, Tang said "Zheng Yumei did not beat Zhou Zi. The wardens all enforced the law properly." Ms. Zhou's parents exposed his lie right away, "Your answer is very unreasonable. If Zheng Yumei did not beat Zhou Zi, why did Zhou Zi go on a hunger strike in protest?" Zhou Zi's parents also asked Tang to investigate that Zheng Yumei forced Zhou Zi to kneel down to "transform" her. Tang said he would investigate it and give the parents an answer, but Tang has not showed up since then.
Zhou Zi's parents requested to see the prison administration sector supervisor Gao Yunqi several times. They also wrote a letter to Gao Yunqi. Every time, Gao would make excuses, such as he was busy, he was not in the office, or he would call them back later to avoid seeing them, and he never called.