Australia: Practitioners Call for an End to the CCP's Persecution of Falun Gong During the Australia-China Bilateral Dialogue (Photos)
(Clearwisdom.net) On July 6, 2007, Falun Gong practitioners in Sydney held a press conference outside the R.G. Casey Building, the premises of the Australian Department of Foreign Affairs and Trade. They called on the Australian Department of Foreign Affairs to ask the Chinese Communist Party (CCP) during the Australia-China bilateral dialogue to immediately stop the killing of Falun Gong practitioners, to immediately release all detained Falun Gong practitioners, and to allow the Coalition to Investigate the Persecution of Falun Gong (CIPFG) to enter mainland China to look into the persecution of Falun Gong practitioners. The petition letter was delivered to the Australian Department of Foreign Affairs by a representative of the New South Wales Falun Dafa Association.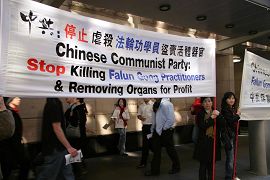 Protesting the CCP's atrocity of harvesting organs from living Falun Gong practitioners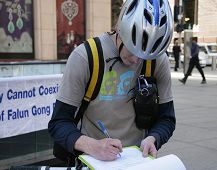 Australian people sign the petition to support efforts to end the persecution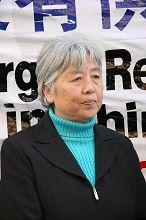 Former associate professor of Chinese Academy of Sciences Ms. Liu Jinghang exposes the CCP's atrocities using her personal experience
At the press conference, a practitioner read aloud the petition letter. The letter asked the Australian government to raise several issues to the CCP regime during the dialogue. For example, United Nations Special Rapporteur on Torture Manfred Novak gave a list of hospitals, organ transplantation centers, concentration camps and courts in China that participated in criminal activities involving organ harvest of living Falun Gong practitioners in March 2007, and those entities need to be investigated. In addition, Canadian human rights lawyer David Matas and former Canadian MP and Secretary of State for the Asia Pacific David Kilgour jointly released an investigation report named "Bloody Harvest," in which they provided 33 pieces of verifiable evidence pointing to the large-scale seizure of organs from living people in China. The CCP must answer these charges and be held accountable.
Former associate professor of the Chinese Academy of Sciences Ms. Liu Jinghang also spoke at the press conference. She used her personal experience to expose the CCP's atrocities against Falun Gong practitioners in forced labor camps. Falun Gong practitioners were forced to have physical check-ups, and those who were appropriate organ matches would be chosen as suppliers for organ transplants. She said, "From June to November in 2000, I was detained at Beijing's Xicheng Detention Center. All of the detained Falun Gong practitioners were forced to have a physical check-up. We had our blood pressure and heart checked, and had a blood test. The CCP tortured us with various means, but they spent money giving us a physical check-up. Other criminals who were ill requested a check-up, but were refused. Those criminals were surprised and puzzled."
She recounted her experience of having blood tests twice. Early on morning of July 18, 2000, five prison guards took her into a secret room on the third floor of the Qinghe Emergency Center to have her blood tested. She used all her strength to resist, and finally the nurse was unable to draw her blood and left. The police guards were very angry and cuffed her hands and feet to the frames of a metal bed, and force-fed her some unknown drug. On November 29, 2000, she and five other Falun Gong practitioners underwent an overall and detailed check-up under the threat of the police who held electric batons. The check-up included a blood test, electrocardiogram, X-rays, urine test and so on.
She also revealed that during her detention, a large number of Falun Gong practitioners from outside Beijing who refused to give their names and addresses were transferred in one to two weeks. Their whereabouts are unknown. Nobody knows whether they were still alive or not. She said, "I understand now that the CCP secretly detained Falun Gong practitioners as prisoners waiting for execution, and also treated them as a huge live organ bank. The practitioners had their blood tested one by one, and they would be killed at any time so long as their organs matched the required ones in organ transplant operations."
Another Falun Gong practitioner, Fu Jiji, recounted her experience of being persecuted in mainland China, including being forced to have a physical check-up.
Since 1997, Australia has been holding official human rights dialogues with China. But every year, it has turned out to be a closed-door meeting. Australia has never raised any criticism publicly. The dialogues have been described as merely going through the motions. Former CCP diplomat Chen Yonglin once commented that the dialogue between Australia and China is only a show.
A member of the CIPFG Australian branch said at the press conference that regarding the CCP's worst human rights conditions, on May 30 of this year, the CIPFG proposed three requirements to the CCP regime: immediately release all detained Falun Gong practitioners, stop the persecution of human rights lawyers and people such as Gao Zhisheng, Li Hong and others who support and safeguard Falun Gong practitioners' rights, and accept an unrestricted independent investigation from the international community on organ harvesting. If the CCP is unable to make a satisfactory reply to the CIPFG by August 8, 2008, the organization will join ongoing efforts to boycott the 2008 Olympics.