Hong Kong Lawsuit Against Chief Perpetrators of Persecution Filed (Photo)
(Clearwisdom.net) On June 28, 2007, two persecution victims filed a lawsuit with the Hong Kong High Court charging Jiang Zemin, former Chairman of the Chinese Communist Party (CCP), Li Lanqing, former Deputy Prime Minister, and Luo Gan, Standing Member of the CCP Politburo, for torture, arbitrary detention and abuse of power. In August 2000, Mr. Chu filed a lawsuit against Jiang Zemin, Luo Gan and Zeng Qinghong with the Beijing Supreme Court. Chu was then arrested and sentenced to 5 years in prison. Ms. Fu Hsueying was detained in a Shenzhen detention center and the Guangdong Provincial Women's Prison. Both Mr. Chu and Ms. Fu were subjected to brainwashing and torture.
In the afternoon of June 28, Hong Kong practitioners held a press conference to inform the public that the Hong Kong High Court has accepted the lawsuit. Plaintiff Chu O Ming read a statement recounting his experiences in China and urging the Chinese authorities to dismantle the Chinese Communist Party, end the persecution, and bring perpetrators of the persecution to justice.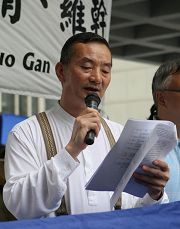 Chu O Ming reads a statement at the press conference