Young Artist in Shandong Province Becomes Homeless for Persisting in His Spiritual Belief (Photo)
(Clearwisdom.net) Falun Dafa practitioner Zhou Ning is an outstanding teacher in the Shandong Special Education Polytechnic Institute. He suffered repeated persecution and eventually became homeless. The Chinese Communist Party (CCP) did not recognize the school he worked for as the provincial model work unit in 2006, because of the CCP's implication policy. That is why school principal Wang Wen as well as the head of the school's Party committee discharged this outstanding teacher. The excuse was, "Having not returned to work for a long period of time." Mr. Zhou had contributed much to the school and to the education of the disabled. Zhou Ning's right to an assigned apartment was revoked, and it is now occupied by Li Jigang, the vice principal and vice secretary of the Party committee of the school. The details are as follows: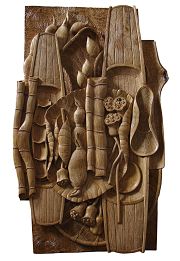 Zhou Ning's craft work
Mr. Zhou Ning, 38, was a teacher in the Arts and Crafts Section, Shandong Province Special Education Polytechnic Institute. He was one of the founders of this section and had been a dean's office director.
When Zhou Ning first came to the newly founded school, he put all his art talent and enthusiasm into teaching the deaf to learn art. He had 28 deaf students who were the first group of students in art and crafts enrolled by the school since the school was founded. It was a real challenge for Zhou Ning due to the communications barrier, and because he had no teaching experiences with the deaf.
However, Mr. Zhou Ning learned sign language in a very short time and overcame the communications barrier. He was exceptionally good at finding a student's potential talent. His rich sign language in the class and the dynamic class atmosphere attracted students. He became more selfless and wise, especially after he began Falun Dafa practice in 1995. The practice seemed to have endowed him with additional teaching ideas. He became even more astute at discovering students' art talents, and he guided them with kindness and helped them to keep their own artistic styles.
In 1996, he and the students reaped their artistic rewards. The graphic advertisement designs his students had created under his guidance were recognized for outstanding achievements in the Shandong Province Advertising Design Exhibition. They earned one gold medal, one silver medal and six bronze medals, which aroused much interest among the experts in the provincial art and crafts schools. That same year, at the Huadong Area Art Exhibition, his students' graphic advertising designs were awarded one bronze medal and seven outstanding medals.
In May 1997, Mr. Zhou Ning arrived in Beijing with the woodcarving artworks that his 28 students had created and held a woodcarving exhibition called "Silent Aspiration" in the China Art Gallery, the top art gallery in China. The exhibition was very successful. The China Art Gallery kept six of these works for their collections, and many experts highly praised these artworks. Some experts were so moved by these artistic creations that they even cried. Many experts and professors in the field of arts wondered how this young teacher with only three years' teaching experience created such a miracle. Falun Dafa had raised Zhou Ning's moral standards and realm. At that time many radio stations, newspapers and magazines reported of this spectacular art exhibition.
In November 1998, the woodcarving works were exhibited in the municipal hall in Copenhagen, Denmark and also gained many favorable comments. In a short three years, the school's reputation was raised high because of Zhou Ning and his students. During that period, Zhou Ning also encouraged and inspired other art teachers in the school. This led to the school's work being exhibited once again in the China Art Gallery, in 1999 and 2000. The two shows were themed "China Roots," an exhibition of fiber arts, and a wax print exhibition. By then the school he worked for had become well known.
Zhou Ning was not only an outstanding teacher but was also highly respected because of his lightheartedness about recognition and personal interest, and for his selflessness in helping others. Prior to 1999 he had been awarded many honors in consecutive years, such as "Outstanding Teacher," "Advanced Personnel," and so on. At the 40th Anniversary of his former school, the "Shandong Institution of Art," Zhou Ning was invited and presented a speech as the representative of the alumni students.
Zhou Ning's first class of students were going to graduate in 1997. Without outside financial support, Zhou Ning and his wife Xiao Yixia (a practitioner as well) founded with their own funds, the "Genuine Expression Modeling Arts and Crafts Workshop," to which several students in the school were recruited. The couple was pioneers, to attempt to educate and find employment for the disabled in arts and crafts fields. Even during the past seven years, when the couple suffered from being persecuted, no matter how hard these instances were, they still followed the principles of Truthfulness-Compassion-Tolerance and guided the students free of charge, which made these deaf and mute artists gradually mature artistically.
In two short years, from September 1997 to July 20, 1999, they led the students to participate in the 1997 "China Fine Arts Expo, Beijing" in which they won a prize for outstanding works, the 1998 Shenzhen Fine Arts Museum's "Genuine Expression Products Exhibition," the November 1998 "Shanghai International Fine Arts Expo" that attracted extensive attention from proponents of fine arts and those of academia, and as mentioned above, the November 1998 "Genuine Expression Wood Carving Work Exhibition" in the Municipal Hall at Copenhagen, Denmark, which attracted much overseas attention from people in the same field. At present, their works are in the collection of the China Fine Arts Museum, the Shenzhen Fine Arts Museum and many other museums inside and outside of China.
However, the persecution of Falun Dafa began in July 1999. Zhou Ning and his wife believed the persecution was wrong, because Falun Dafa bestowed many benefits and brought no harm to society. The couple started the journey to Beijing in October 1999 to validate Dafa. Zhou Ning's wife Xiao Yixia was then four months pregnant. The couple were separated the night they arrived in Beijing. The pregnant Ms. Xiao Jixia was arrested and detained in a Beijing police station that night and sent to the Qingdao Liaison Office in Beijing the next day. Two days later she went under police escort from the Cangkou District Police Station in Qingdao City to the Baima Police Station in Jinan City. They released her the next day but she was put under school house arrest. Falun Dafa practitioner Mr. Zhou Ning was arrested eight days later outside the gate of the Beijing Appeals Bureau by Jinan police and was taken back to Jinan. He was immediately sent to a brainwashing class held in the Jianan's Qixian Town Guest House and was released two weeks later.
Chen Zhili was then the Chinese Minister of Education. With Jiang Zemin's sanctions, this woman forcibly implemented Jiang's policy to persecute Falun Gong adherents employed in China's education systems where persecution was extremely severe. All education branches were required to criticize Falun Gong on a large scale. Teachers and students were compelled to watch videos that slandered Falun Gong. Hatred toward Falun Gong was widely incited. In this environment, everyone must make known one's position on Falun Gong. Shandong Special Education Polytechnic Institute was no exception. A few lawless scoundrels unscrupulously persecuted the practitioners.
At this point the school stopped Zhou Ning from working, and the couple' freedom was restricted. They were required to report to the school and get permission even to leave the campus. In November 1999, when the "Genuine Expression Modeling Arts and Crafts Workshop" was invited to participate in the "Shanghai International Fine Arts Expo," the school assigned other teachers to monitor the couple during their stay in Shanghai, and their activities were reported to the school authorities. When the 2000 Chinese New Year was approaching, a few school leaders cooperated with agents from the Jinan 610 Office to arrest Zhou Ning again. His home was searched. He was locked up in the Liuchangshan Detention Center in Jinan City. His wife Xiao Yixia was by then seven months pregnant. The school also assigned people to go to Zhou Ning's home daily to monitor his wife, putting the pregnant woman under tremendous pressure.
After Zhou Ning was released from the Liuchangshan Detention Center he was under house arrest. He stayed with his parents in Weifang City. His parents were required to monitor him. The school has not paid his salary since, which has now already been seven years. Close to the end of his house arrest, since he still refused to give up his belief, the school cooperated the with the 610 Office. The persecutors were going to arrest Zhou Ning again, but this time in Weifang. Mr. Zhou Ning saw through their plot and managed to escape.
School officials and agents from the 610 Office kept searching for him in Weifang and Qingdao. Zhou Ning made the heavy decision to leave his parents, his wife and their newborn son and go into exile to avoid the persecution.
In 2003, with assistance from an American art collector, the workshop under Zhou Ning and his wife's guidance successfully conducted the "Genuine Expression" wood carving exhibition at the Houston Arts and Craft Center. The local media gave this exhibition extensive coverage. Art specialists and scholars of the arts highly praised the show. Since the inception of the workshop, the Zhou Ning and Xiao Yixia couple have been the subjects of much recognition for their successful educational work with the deaf and mute in the arts disciplines. Some of the media outlets who reported the couple's success include the Shanghai TV Station, Shandong TV Station, Jinan TV Station, the China International Broadcasting Station, Beijing Broadcasting Station, Shandong Broadcasting Station, China Arts News, Arts News, Citizen's Daily, Jinan Daily, Qilu Evening News, Jinan Times, and dozens of other news media.
Mr. Zhu, a renowned Chinese art critic who was also a Chinese art history scholar, artist and professor, appraised the arts and craft works from the couple's workshop with this comment, "It reflects a genuine, honest and simple principle, which is just what the modern artists lacks, but needs." A distinguished international arts critic in the US, Robert C. Morgan, said of their artwork, "The aesthetic grace and nobility in form completely subdued me and strongly touched my feelings. Their artistic expression is far beyond the secular and ordinary art world that I have been subtly influenced by and commonly saw." The internationally known sculpture artist Jesus Moroles had this to say, "When these artworks are present before me, I am shocked by their creative design, mystery of techniques and materials. I am especially surprised to know these remarkable pieces of art are coming from a group of young sculpture artists, most of them being deaf or mute. They combine their ideas, design and workmanship so seamlessly, which really strikes me."
What these foreign artists could never imagine was that the instructor of these deaf and mute artists has been suffering from persecution for several years. Since Wang Wen was appointed principal of the Shandong Special Education Polytechnic Institute as well as head of the school's Party committee, this woman has made use of the special education privileges for her own personal interest and to make money using all kinds of means. Although she was not good at managing a school and was financially corrupt, she actively persecutes Falun Gong with all her power. As mentioned above, in late 2006, Wang Wen discharged Mr. Zhou Ning, citing the circumstance that Zhou Ning had not been working in the school for a long time. Information of Zhou Ning's dismissal has so far not yet been openly announced among the schoolteachers.
Most insidiously, Wang Wen used illegal and despicable ways to take over Zhou Ning's 120-square-meter (1,291 sq. feet) house. They removed Zhou Ning's furniture and household goods from the house by force. The house is now occupied by the vice principal as well as the vice head of the school's Party Committee Li Jigang. Zhou Ning's family thus became homeless.
Appendix A: Achievements of Zhou Ning's "Genuine Expression Modeling Arts and Crafts Workshop"
May 1997, China Fine Art Museum
"Silent Aspiration" wood crafting exhibition was held in the China Fine Arts Museum. The exhibition showed the artworks from Zhou Ning's students, the first batch of graduate students from Shandong Special Education Polytechnic. Six of the artworks were collected by the museum.
August 1997, Beijing
The workshop participated in "The Fifth China Fine Arts Expo" and won a prize for outstanding works. Two of the artworks were acquired by the Ministry of Culture.
May 1998, Shenzhen Fine Arts Museum, Shenzhen City
The workshop held a "Genuine Expression" wood-crafting exhibition in the museum. The museum acquired eight of the artworks.
October 1998, Copenhagen, Denmark
"Silent Aspiration" wood crafting exhibition in Copenhagen Exhibition Hall, sponsored by Denmark's Disabled Association
November 1998, Shanghai City
Participated in the Second Shanghai International Fine Arts Expo
November 1999, Shanghai City
Participated in the third Shanghai International Fine Arts Expo, sponsored by Han Ying Art Investment Consultants
December 2001, "Art 50 Studio," Shanghai City
"Silent Aspiration" wood crafting exhibition, sponsored by Han Ying Art Investment Consultants and Novotel Accord Hotels
June 2003, Santa Fe, New Mexico, USA
"Genuine Expression" wood crafting exhibition, sponsored by Penn Williamson & Company and Han Ying Art Investment Consultants
April 2004, Han Rui Workshop, Shanghai City
"Genuine Expression" wood crafting exhibition
August 2004, Houston Modern Arts and Craft Museum, Houston, USA
"Genuine Expression" wood crafting exhibition, sponsored by the Houston Arts and Crafts Museum and the Asian American Association
September 2005, Trammell Crow Asia Art Museum, Dallas, USA
"Genuine Expression" wood crafting exhibition, sponsored by the Trammell Crow Asian Arts Museum
Appendix B: Related Personnel and Work Units
Shandong Special Education Polytechnic Institute:
Web site: http://www.sdse.cn, E-mail: w6735701@yahoo.com.cn
Principal's office: 86-531-87198301
Vice principal's office: 86-531-87198302
Wang Wen, female, 52, principal, head of the Party committee, 86-531-87198321 (Home), 86-13705318321 (Cell), 86-531-87198302 (Office)
Li Jigang, vice principal, deputy head of the party committee, 86-531-82069380 (Home), 86-13906417986 (Cell), 86-87198303 (Office)
Zhang Bin, vice principal, 86-531-87198372 (Home), 89-13906417978 (Cell), 86-87198318 (Office)
Bai Weiguo, vice principal, 86-13153028157 (Cell)
May 5, 2007