Toronto: Practitioners Clarify the Facts at the International Dragon Boat Festival (Photos)
June 21, 2007 | By Minghui/Clearwisdom reporter Zhang Yun
(Clearwisdom.net) On June 16, 2007, the 19th Annual International Dragon Boat Festival was held on Centre Island, in Toronto. The organizers estimated that more than 120 thousand people would attend the festival. Falun Gong practitioners had a booth at the festival to demonstrate the exercises and clarify the facts of Falun Gong. They also offered CCP members the ability to quit the Party on the spot.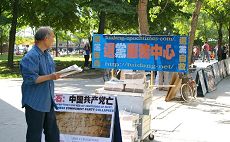 Practitioners' booth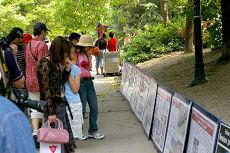 Learning the facts of Falun Gong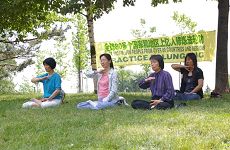 Demonstrating the exercises
Young practitioners from the Minghui School demonstrated the exercises on the lawn, which attracted many tourists, most of whom left with truth-clarifying materials in hand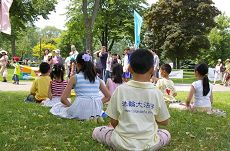 Young practitioners demonstrate the exercises
Six year-old Lingwen, who came to Toronto from Mainland China three months ago, told this reporter, "Nobody will come to arrest me today. In China, I cannot do the exercises in park." His mother said, "We are very glad that we can bring him to the activity today. It is impossible to have such an activity in China."
A family from Anhui, China, ran into practitioners and talked to them. The father said, "It feels really good to live in such a free country. I didn't understand why the Chinese government persecutes such a peaceful practice. I read the The Epoch Times every day in Toronto, then I realized the reasons." A young practitioner gave him a copy of the Nine Commentaries on the Communist Party. He said that he was not a member of the CCP, but he asked practitioners to help him and his wife to quit the Communist Youth League.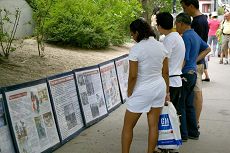 Mr. Wang, a Falun Gong practitioner, told the reporter that many tourists came to the festival today and many of them came to practitioners' booth, asking for Falun Gong materials. He said, "We exposed the evil history of the CCP today. Many people read our display boards carefully. One lady told me that she knows the facts of the persecution and later she quit the party at my booth."