Canada: Teachers from Minghui School Awarded Outstanding Achievement Award for Voluntarism (Photos)
(Clearwisdom.net) On June 14, 2007, the Ontario Provincial Government issued awards in Mississauga to organizations and individuals who have made lasting and meaningful contributions to communities. Five teachers from the Toronto Minghui School won awards.
Ontario Members of Provincial Parliament Peter Fonseca (second from right) and Kevin Flynn (first from left) pose for a group photo with teachers from Minghui School
Participating in a Korean Community event at Mel Lastman Square, Toronto
www.minghui.org/mh/article_images/2007-6-16-torontomh-03.jpg
Participating in a community event at South Regent Park in Toronto
Performance at a celebration of World Falun Dafa Day in Dundas Square, Toronto
Performance at Toronto May Festival - Thornhill Community Event
Youth Bicycle Tour from Toronto to Washington DC calling for an end to the CCP's persecution of Falun Gong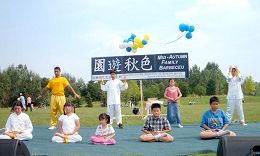 Participating in Mid-Autumn Family Barbecue in Milliken Park, Toronto
The Toronto Minghui School was set up by Falun Gong practitioners in 2001. The contributions of the school in promoting Chinese culture and serving communities won praise from all circles. Five teachers from the school were awarded the Outstanding Achievement Award for Voluntarism by the Ontario Provincial Government.
The teachers in Minghui School are Falun Gong practitioners. Education in the school is based on Falun Dafa and also includes courses on Chinese traditional culture, Chinese characters, classical dance, martial arts, and qigong practice.
Ms. Li Ying, one of the recipients, said, "We wish to introduce the essence of eastern culture through these courses and train students with a rounded curriculum which includes the physical, spiritual and intellectual areas. Student Kerry of the school received a fellowship award from the Canadian Government last year for his excellent achievement."
Students of the Minghui School often perform Chinese dance, martial arts and Falun Gong exercise demonstrations for senior citizens, communities of various ethnicities, and government celebrations. They have been warmly welcomed and appreciated.
MPPs Peter Fonseca and Kevin Flynn, representing the Ontario Provincial Government, issued the Outstanding Achievement Awards for Voluntarism. Dalton McGuinty, Premier of Ontario Province, dispatched a representative to read his appreciation letter and congratulate the award recipients.