Auckland, New Zealand: Practitioners Expose CCP's Organ Harvesting Atrocities (Photos)
May 09, 2007 | By a Falun Dafa practitioner in Auckland
(Clearwisdom.net) On May 5, 2007, Falun Gong practitioners held an anti-torture exhibit at the Aotea Square in downtown Auckland, New Zealand. The exhibit exposed the Chinese Communist Party (CCP)'s persecution of Falun Gong, and supports an Amnesty International campaign that aims to improve human rights conditions in China. The exhibit highlighted the most heinous and horrifying crime in human history, that is the CCP's crime of harvesting organs from living Falun Gong practitioners and cremating their bodies to destroy the evidence.
People view truth clarifying boards at the anti-torture exhibit

People sign the signature collection book to express their support for the Falun Gong practitioners' efforts of countering persecution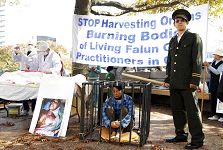 Simulation of organ harvesting atrocities
Amnesty International began a campaign in New Zealand on April 10, 2007 focusing attention on China's human rights conditions. Amnesty International will tour 31 cities and towns in New Zealand, and have dialogues with local governments in hopes of bringing pressure towards improving China's human rights situation through contacts with China's "sister cities." One of the organizers of the activity said that they aimed to help New Zealand government officials and people learn more about human rights issues happening in China.
On May 5, at the anti-torture exhibit held in downtown Auckland, numerous passersby learned about the CCP's persecution of Falun Gong practitioners. Some people had heard about the persecution, but truly came to understand it here. Some people learned about it for the first time. Many passersby felt that the CCP is too cruel. They felt sad for the victims. People who have learned about the facts signed a petition to condemn the CCP's crimes and call for an end to the persecution of Falun Gong. Some people suggested Falun Gong appeal to Parliament, asking them to urge the CCP to stop all persecution prior to the 2008 Olympics.
Before the conclusion of the activity, a teacher came over and read the introduction about the persecution of Falun Gong. She told a practitioner, "Such a persecution is too cruel, but as you see yourself, there are so many people who are indifferent. We should collect more signatures or exert more pressure on the Chinese government in other approaches; otherwise, they won't change. I'd like very much to go to China, but I want to wait until the end of the persecution. I'll pass your stories to Amnesty International, allowing you to have more opportunities to voice your concerns."
A young man from Argentina could only speak a little English, but could speak Spanish. He saw what was written on the boards and was very surprised. He decided to write articles to the media after he returned home.
Some Chinese people passed by and read about the facts. One man still doubted the facts of the persecution. Practitioners presented him with a copy of the report titled "Bloody Harvest: Revised Report Into Allegation of Organ Harvesting of Falun Gong Practitioners in China" hoping he could gain more understanding of the facts.