Taiwan: Introducing Dafa in Shuilien Mountain Village (Photos)
May 07, 2007 | By a practitioner in Taiwan
(Clearwisdom.net)
Buildings and green mountains reflected in the lake,
Nice scenery accompanies nice people.
A clear stream in the world for fifteen years,
Spreading Dafa in Shuilien today.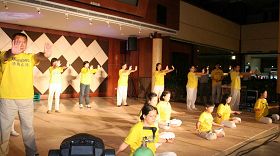 Falun Gong practitioners were invited to participate in a celebration in Shuilien Village and demonstrate the exercises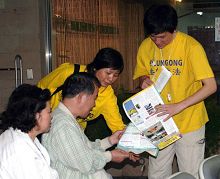 The public learns Falun Dafa's principles "Truth-Compassion-Tolerance"
Shuilien Village is located in the mountains of Hsichi in Taipei County and has beautiful scenery. Before the fifteenth anniversary of the public introduction of Falun Dafa, practitioners went to the village to introduce Dafa and clarify the facts.
May 5 of each year is Shuilien Village's annual celebration. Activities include garden visiting, qigong demonstrations, art performances, and more. Falun Gong practitioners were invited to demonstrate the exercises for more than ten minutes. A practitioner explained the practice and introduced Zhuan Falun and the universal principle "Truth-Compassion-Tolerance." At the Falun Gong booth, a few people right away requested the book to read at home.
The host organization expressed its appreciation to the practitioners for their participation.