Ottawa, Canada: Bo Xilai Served With Lawsuit (Photos)
May 30, 2007 | A comprehensive report by Ying Zi, Clearwisdom reporter in Canada
(Clearwisdom.net) Chinese Commerce Minister Bo Xilai was invited to visit Canadian Department of Foreign Affairs and International Trade on Monday, May 28, 2007. At about 2:30 p.m., Falun Gong practitioner Zhang Lingdi served Bo Xilai a lawsuit against him for torture issued by Ontario Superior Court in an elevator of the Westin Hotel. According to law, Bo Xilai must respond to the lawsuit within 20 days, otherwise, he will be faced with a default trial.
Anti-torture exhibit in front of Foreign Affairs Department. David Kilgour cited a piece of evidence in his report on the CCP's live organ harvesting on May 24, 2007, "The wife of a surgeon revealed the organ harvesting from Falun Gong practitioners after her husband confessed to removing corneas from 2,000 Falun Gong practitioners at a hospital in Liaoning province while Bo was governor. "
Entering Canada, Bo Xilai is Faced with a Lawsuit
Ottawa Falun Gong practitioner Zhang Lingdi saw Bo Xilai and his entourage at 2:30 p.m in an elevator close to the parking garage of the Westin Hotel in downtown Ottawa. Zhang Lingdi was half a meter away from Bo. He handed the Ontario Superior Court subpoena to Bo Xilai and said in English, "You know you are served."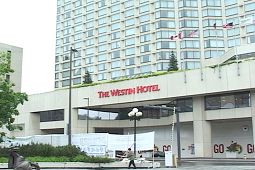 Westin Hotel where Bo Xilai was served court papers in an elevator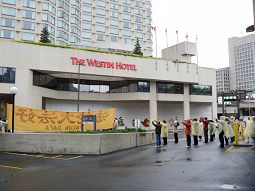 Falun Gong practitioners protest, despite rain, against Bo's crimes outside the Westin Hotel where Bo stayed
Other than Bo's entourage and a Falun Gong practitioner, there were two Royal Canadian Mounted Police Officers who witnessed the serving of the legal documents. According to law, Bo Xilai must respond the lawsuit within 20 days, otherwise, he will face a default trial.
Spokesperson for the Falun Dafa Association, Ms. Zhou Limin, said, "On September 7, 2005, Ottawa renowned human rights lawyer Lawrence Greenspon filed a civil lawsuit to the Ontario High Court against Bo Xilai for torture, and required Bo to compensate for the damages caused to the plaintiffs. In September 2005, the Canadian Falun Dafa Association requested that CCP officials Bo Xilai and Xia Deren, who have been involved in the severe persecution of Falun Gong, be barred entry into Canada. At that time, Bo and Xia eventually did not come as planned. The lawsuit that Zhang Lingdi served Bo today was the addition of the 2005 lawsuit."
Seeking Justice for Victims in Canada
According to information on the Clearwisdom website, when Bo was governor of Liaoning from 2001 to 2004, he was active in the persecution of Falun Gong. Liaoning Province is one province where Falun Gong is persecuted the severest. According to the Clearwisdom website, there were 369 documented deaths from torture of Falun Gong practitioners in Liaoning Province, which ranked No. 3 in all provinces in China.
Falun Gong practitioners protest against Bo Xilai's crimes outside the Foreign Affairs Department. The first on the left is a victim from Liaoning Province, Zhao Yu
Persecution victim Zhao Yu was from Liaoning Province. She recounted to the reporter the persecution that she and her family had experienced. Zhao Yu said, "My son was forced into a brainwashing center for two years after the persecution began because he persisted in practicing Falun Gong. They authorities also forced my daughter-in-law, who was newly married to my son, to divorce my son. My son's work place held public meetings to criticize my son, and my husband was also taken to the meetings to criticize my son with them. It was just like what happened during the Cultural Revolution."
Zhao Yu's husband Zheng Weidong was an internationally known doctor. He was invited to the U.S., Canada and France to participate in academic exchanges and published many dissertations on medicine. After practicing Falun Gong, Mr. Zheng had sound health, but local police and the 610 Office of his workplace constantly came to his home to harass him, fabricate lies to create disturbances, threaten and intimidate him. Mr. Zheng endured tremendous pressure and held a strike, which led to his heart failure in the end. He passed away on May 24, 2001.
David Harris, former top official with the Canadian Security Intelligence Service and senior fellow for national security at the Ottawa-based Canadian Coalition for Democracy, said at the press conference on May 24, 2007 that "The incredible wrenching asunder of families through forced divorce the psychological torture in effect the people have undergone, not to mention the incredible physical abuses that are manifestly contrary to any notion of international law. We hear such things as the forced removal of corneas to be marketed elsewhere, corneas of political prisoners." " I would like to say that in light of all of this, and in light of Mr. Buo's alleged involvement in these kinds of undertakings; allegations based it would appear upon convincing evidence that Mr. Buo at the very least be barred from entry to Canada on the basis of the Immigration and Refugee Protection Acts among other legal and moral imperatives."
Mr. Harris also said, "we hope that Canada will do all that it can. Should Mr. Buo enter this country to facilitate what I understand to be efforts that are planned to serve this gentle-men with legal documents so as to advance the bringing of some form of justice at least to Mr. Buo and those responsible for what may well be crimes against humanity."
Bo Xilai Does Not Enjoy Diplomatic Immunity
Renowned international human rights attorney David Matas said in an interview on May 28 that Bo Xilai does not enjoy diplomatic immunity, because he is not a diplomat. David Kilgour said at the press conference on May 25 that, "if it was Minister of Commerce from Zimbabwe, or from North Korea or from Burma or from other regimes that are doing terrible things to their people, would that be cited? Mr. Buo is not the Minister of Foreign Affairs for China nor is he the Minister of International Trade. Diplomatic Immunities as I understand it are reserved for Diplomats only and Ministers of Foreign Affairs. "
National Post: "Keep Bo Xilai Out"
After Bo Xilai entered Canada, Canada's National Post published an article titled, "Keep Bo Xilai Out" on May 26, 2007. The article said, "Why would we let this man into our country?"
"Stephen Harper has been a strong advocate of human rights in China. Officials have spoken out against Chinese espionage and the treatment of accused Huseyin Celil, and promised Canadians that trade won't trump human rights"..."Given all this, why was Bo invited in the first place? To appease the China business lobby? Were Ottawa bureaucrats overruling Mr. Harper's promise not to sacrifice human rights to trade?"
The report continued, "One way or another, a decision on Bo will require all of the Prime Minister's gifts of leadership and moral clarity. Mechanisms are in place to bar Bo's entry. Canadians--and many suffering Chinese--are watching."
Bo Xilai is the second CCP high-ranking official who has been sued for persecuting Falun Gong. He was among the entourage of China's Vice Premier Wu Yi's visit to North America. On May 25, 2007, the CCP Minister of Information Industry Wang Xudong was served a lawsuit by Falun Gong practitioners in Washington DC. Bo, who is named as a "Human Rights Scoundrel," was protested against in the U.S. Prior to that, he has been served with lawsuits in ten other countries by Falun Gong practitioners for crimes against humanity, torture and other crimes. Those countries include the U.S., the U.K., Germany, Ireland, New Zealand, Russia, Australia, Korea, Spain and Sweden.