Vancouver, Canada: Falun Gong Practitioners Win President's Award Three Times for Participating in New Westminster Hyack Festival International Parade (Photos)
May 30, 2007 | By Li Hua, Clearwisdom reporter in Vancouver
(Clearwisdom.net) On May 26, 2007, Falun Gong practitioners in Vancouver were invited to participate in the annual 2007 Hyack Festival International Parade in New Westminster, British Columbia, Canada. The spectators gave them warm applauses and the organizer of the parade issued the President's Award, the highest award of the festival parade, to the Falun Gong contingent. This was the third time Falun Gong practitioners won the President's Award.
The parade attracted 140 groups from America and Canada. The Falun Gong contingent was the only group that was mainly composed of Chinese people, and had the longest lineup in parade procession. There was a float, exercise demonstration, celestial maidens' performance, performers in Tang Dynasty costumes and waist drummers. The contingent was 50-60 meters long. The organizer especially designated a young man to hold a the President's Award banner in front of the contingent.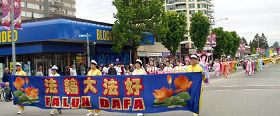 The banner reading "Falun Dafa Is Good" leads the parade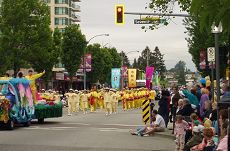 Peaceful and harmonious exercise demonstration and vigorous waist drum performance

Beautifully-decorated float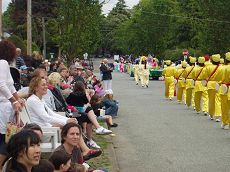 Audience's enthusiastic response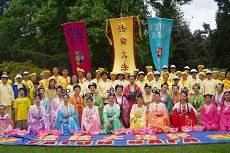 Practitioners participating in the parade
Falun Gong practitioners' variety of dance performances, brilliant and dazzling float, peaceful and harmonious exercise demonstration and vigorous waist drum performance, gain constant applauses and cheers from spectators on both sides of the road. "Very beautiful!" "Wonderful!" "Chinese culture!" People gave praise and appreciation. People with cameras and video cameras seized the opportunity to capture such precious scenes. Some people followed along with the practitioners' exercise movements. Many Chinese spectators sincerely showed excitement and supportive smiles upon seeing the spectacular Falun Gong group.
After the parade, Falun Gong practitioners had a photo taken in the park the parade ended at.
New Westminster Hyack Festival was started over 30 years ago in 1972 in New Westminster. According to the sponsor, it is the largest parade in British Columbia.