Washington DC Practitioners Protest Visit of Human Rights Scoundrel Bo Xilai (Photos)
(Clearwisdom.net) A Chinese trade delegation recently visited Washington DC, and one of the delegation members is Minister of Commerce Bo Xilai, a notorious human rights scoundrel for his role in the persecution of Falun Gong. On the evening of May 24, outside the Capital Hilton Hotel where the delegation was attending a banquet, local practitioners held a protest, calling on the US government to deport Bo Xilai.
Washington DC practitioners protest visit of human rights scoundrel Bo Xilai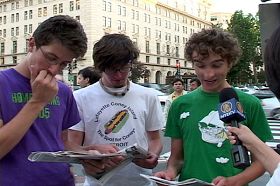 College students learned about the persecution
Outside the hotel, the practitioners unfurled several giant banners which read: "Deport Human Rights Scoundrel Bo Xilai," "Bring Jiang Zemin, Luo Gan, Liu Jing and Zhou Yongkang to Justice" and "Falun Dafa is Good." Several practitioners distributed truth-clarifying materials to passersby.
Ms. Ge, an actuary for a federal government agency, organized this protest. She said: "Bo Xilai is one of the chief perpetrators of the persecution. Between 1999 and 2003, Bo Xilai acted as mayor of Dalian City, deputy secretary of the Chinese Communist Party (CCP) Committee of Liaoning Province and governor of Liaoning Province. It was estimated, as of November 2005, at least 333 Falun Gong practitioners have been tortured to death in Liaoning Province, including Ms. Gao Rongrong whose facial disfigurement and brutal murder shocked the international community. Bo Xilai also built large-scale prison facilities, one of which is the Masanjia Forced Labor Camp where 18 female Falun Gong practitioners were once stripped naked and thrown into male cells for sexual abuse. In addition, the first case of organ harvesting atrocities was also revealed in Liaoning Province. We are here to let the Americans and the world know that Bo Xilai is a human rights scoundrel and we are here to call on the US government to deport Bo. Meanwhile, we also appeal to all kind-hearted people to help us end the persecution.
"We also hope that other members of the Chinese delegation will start to face the truth about the persecution and see clear the brutal nature of the CCP so that they can make a right choice for their futures."
Ms. Tao is in her 60s. Holding a photo frame of young lady, she said: "When Bo Xilai was the governor of Liaoning Province, many practitioners were persecuted to death, including this young beautiful lady. Her face was disfigured and she died while she was being brutally persecuted. Whenever I think about all these tragedies, I feel very sad. Is there anything wrong with being a good person? Why has CCP persecuted Falun Gong practitioners so brutally, leading to the deaths of more than 3000 practitioners? We want the whole world know that we will expose all these evildoers until everyone of them is brought to justice."
Lawsuit against Bo in Process
Chinese Communist Party officials often face lawsuits for their role in the persecution when they visit other countries. In April 2004, when visiting Washington DC, Bo Xilai was sued by local practitioners for torture and crimes against humanity. In addition, he has been sued in many other countries.
Dr. Terri Marsh, Executive Director of the Washington-based Human Rights Law Foundation, said: "On February 7, 2007, a hearing was held regarding the Bo Xilai case and the case is still in progress."
Regarding questions as to how can Bo return to Washington DC after being sued, Marsh said: "First of all, the judicial branch and the executive branch are completely independent. Secondly, the lawsuit is still in process and no verdict has been made. Once the court finds Bo guilty, we will try our best to prevent him from entering the US again. The current case against Bo is a civil lawsuit. We are also planning to file a criminal lawsuit against him. In that case, if the court rules that Bo is guilty, he will be extradited to the US and incarcerated. "
At the protest site, an Australian tourist told a Clearwisdom reporter that she had heard about the persecution back in her country and had seen practitioners' protest activities. She said: "They should have their human rights."
Upon seeing the banners and posters, three students from the University of Michigan said: "This [persecution] looks horrible. Why have we never heard about this before? The media should let more people know about this persecution." These students are learning Chinese. They said: "We hope for a good relationship between the US and China. However, we are surprised to learn that such bad things are happening in China. We believe that the situation will have real improvement only if more people pay attention to this."
Near to the protest site, there was a group of people holding the CCP's blood-red flag to welcome the delegation. The reporter learned that many of them were workers hired by the Chinese Embassy. Several practitioners tried to talk with them.
Ms. Ge said: "Many of these Chinese people are hard-working good people. However, because of the CCP's brainwashing, they don't know the truth about the persecution of Falun Gong. Fortunately, they are willing to listen and to see. They wanted to see every banner we unfurled and they were shocked to learn the truth. I think this experience will be good for them. We also hope that members of the delegation can awaken to the truth and choose to denounce the CCP for their own benefit."