Hong Kong: Falun Gong Information Booth Attacked by Thugs Thought to be CCP Agents (Photos)
(Clearwisdom.net) On the afternoon of May 24, a Falun Gong information booth at a famous tourist site was attacked by two thugs. The same morning, volunteers at a nearby Service Booth for Quitting the CCP were also harassed by unknown persons. Local practitioners believe that the incidents were conceived and directed by CCP agents.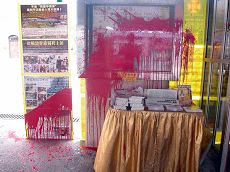 A Hong Kong truth-clarifying booth was attacked by thugs, posters were smashed and defaced with red paint
A Hong Kong truth-clarifying booth was attacked by thugs, posters were smashed and defaced with red paint
The truth-clarifying booth is located at Tsim Sha Tsui. According to practitioners who witnessed the attack, around 1:45 p.m., two Chinese men who were about 25 years old came to the booth. All of a sudden, one knocked an LCD display which was playing a Falun Gong informational video to the ground, while the other man started to spray posters and other materials with red paint. After the attack, they ran to a nearby taxi station. The whole incident lasted for about one minute. After receiving a call from the practitioners, police investigated the site, collected material evidence and recorded statements from the practitioners.
The practitioners said that the thugs were apparently well prepared, with open red paint cans and gloved hands. One of the two was about 1.8 meters (5' 9") tall with short hair wearing a red T-shirt and white gloves; the other was about 1.7 meters (5' 6") tall.
Ms. Chen was present at the site. She said: "The attack was very professional and there was an another person taking photos. Because the information booth is playing an increasing role in clarifying the truth to Chinese tourists, the chief perpetrators behind the stage are most likely CCP agents. She said: "After we called the police for help, I saw a person taking photos of the site. I asked him which newspaper he worked for. He replied that he was just taking photos for himself out of interest. He then left. However, he quickly turned around to take more photos. I feel that his job was to take photos of the attack as evidence of their 'achievement'."
During the attack, an LCD display was damaged, and many truth-clarifying materials and posters were damaged by red paint. Practitioners said that they would continue their truth-clarifying efforts to help more Chinese people, despite the attack.
Volunteers at a nearby Service Booth for Quitting the CCP were also harassed in the morning. While several unknown persons threatened to assault two volunteers of the booth, another person was taking photos of the scene. Soon police officers arrived. Volunteer Mr. Qin recounted the incident: "In the beginning, a man in his 60s began verbally harassing us. Then two more joined him. Two of them claimed to be a married couple. There was a man in his 40s taking photos during the incident. I feel that this harassment was organized, because typically, people who hold different opinions would at most just say a few cuss words and then leave. However, today these people tried to assault us. Apparently, they want to denigrate our reputation. If we defend ourselves, photos will be published in pro-communist newspapers."
The practitioners pointed out that a series of incidents happening recently in Hong Kong clearly show that agents for the CCP are very active and they are committing crimes, threatening the safety of all residents, including Falun Gong practitioners. The Hong Kong government has the obligation to protect people from being threatened, monitored and harassed by the CCP.