Queensland, Australia: Practitioners Introduce Falun Dafa at the Zillmere Multicultural Festival (Photos)
(Clearwisdom.net) On May 19, 2007, the Zillmere Multicultural Festival was held in Brisbane, Australia, with more than ten thousand people gathering in O'Callaghan Park to enjoy the activities. Falun Gong practitioners in Queensland participated in the event and shared the grace of Falun Dafa and Chinese traditional culture with the local people.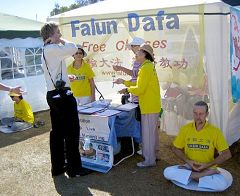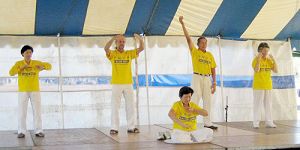 Falun Gong exercise demonstration
Zillmere has held the multicultural festival since 2002. This year, there were more than forty booths and more than fifty ethnic cultural shows.
Falun Gong practitioners participated in the festival for the second time. They demonstrated the exercises, distributed and explained truth-clarification literature, taught people to fold paper lotus flowers, and wrote Chinese names for westerners with brushes.
One practitioner, Ms. Xu, said that she had practiced Falun Gong for ten years. After practicing, her thirty-five-year-long suffering with migraines and arthritis came to an end, saving lots of medical costs for the Australian government.
She said, "I hope people will understand Falun Gong and why the CCP persecutes Falun Gong. The persecution has lasted eight years. The CCP defames Falun Gong, so we want more people to know that Falun Gong is good. To help more people know about such a good practice, I came to participate in today's activity."
The public was shocked at the banner that read, "Collecting signatures to stop live organ removal." Many people came up to learn the facts and sign the petition.
A staff member of the host organization had a group photo taken in front of the booth after signing the petition and said that the photo would be posted on the host's website.
A police officer told a practitioner that he met Falun Gong practitioners in the USA and recently started practicing the exercises. The practitioner recommended Zhuan Falun to him and encouraged him to go to a practice site to participate in group practice with other practitioners.
Several kind-hearted people wished to donate money to the practitioners. However, the practitioners explained to them that Falun Gong does not accept money or gifts, but their kindness was appreciated. They told people that the best way to help is to tell their government, family, and friends about the facts of the persecution.
After understanding the CCP's evil nature, a teacher asked for some copies of Nine Commentaries on the Communist Party, saying that he would distribute them in school.
At around 2:30 p.m., practitioners demonstrated the exercises on the stage, performed dances, and played the trumpet and waist drum.