Introducing Falun Dafa to Local Dignitaries in Kumagaya, Japan (Photos)
May 21, 2007 | By a practitioner in Japan
(Clearwisdom.net) On May 18, 2007, a dance group consisting of Falun Gong practitioners participated in a banquet hosted by the Kumagaya International Association, in Kumagaya, Saitama Prefecture, Japan. The over 100 invited guests included members of the county council, district council, merchant's association, and a legal organization.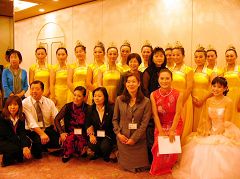 After the performance, many in the audience stepped forward to have photos taken with the dancers.
More than ten practitioners from Tokyo and Saitama demonstrated the Falun Gong exercises and performed music, songs, and dance. Viewers enjoyed the performance, especially the "Thousand Hands of Bodhisattva Guanyin" dance. The performances won warm applause. Many took photos and greeted the performers warmly.
The President of Rissho University said, "Falun Gong demonstrates great compassion and grace. We are constructing a new building and are thinking to include the grace of Truth-Compassion-Tolerance into a text book. I hope Kumagaya can become a new Kumagaya, as kind and full of grace as Falun Gong. I salute and appreciate Falun Gong again."
A Chinese lady who came to Japan twenty years ago and works in the city government said excitedly, "Wonderful. Everyone's performance is wonderful. I hope you promote Chinese traditional culture and have more people practice Falun Gong. Before this time I did not express my attitude to Falun Gong. I think I have changed my view."
The host of the banquet said, "I am fortunate to see your performance. I'll invite you to come again in the future."
A senior man said emotionally, "Seeing your beautiful costumes and dancing, one will have good fortune."
Kumagaya is a city with a population of 200,000 with rich resources and beautiful scenery. Many Chinese people live in the city.