Falun Dafa Benefits Taiwan - In Celebration of World Falun Dafa Day 2007 - Part 2 (Photos)
May 15, 2007 | By Guofeng
(Clearwisdom.net)
3. Demonstrating the Exercises and Spreading the Fa; Purifying People's Hearts
Falun Gong practitioners often perform and demonstrate the exercises to spread the Fa at festivals and celebration activities in Taiwan. Practitioners have also held art exhibitions and invited government officials to the exhibitions, clarifying the facts about Falun Gong to them.
The Third Senior Citizen Games was held on October 21, 2006, and the Falun Dafa Association of Taiwan was invited. 1,400 practitioners demonstrated the exercises at the end of the sports meet, and they were given an award by the organizers.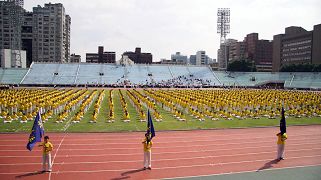 Practitioners demonstrate the exercises at the Third Senior Citizen Games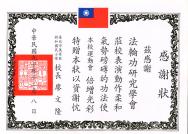 Letter of appreciation from Hsinhe Elementary School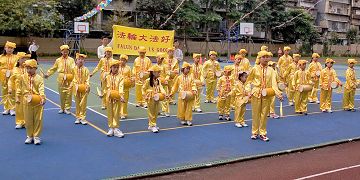 Young practitioners from the Minghui School performing on waist drums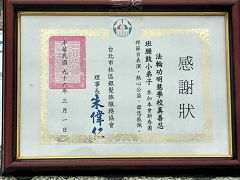 Appreciation letter from the Association of Senior Citizens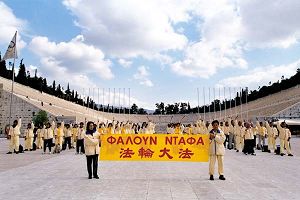 Taiwanese practitioners promote the Fa at the Olympic Field in Greece
4. The "Truthfulness-Compassion-Forbearance" Art Exhibitions and "Validating the Fa" Photo Exhibitions
The "Truthfulness-Compassion-Forbearance" Art Exhibition was held in Taipei in February 2005. It was held in universities in 23 counties and cities in Taiwan, including Taiwan University, Chengchi University, Tsinghua University, Jiaotung Unversity, Chungyang University, Science and Technology University in Yunlin, Chungcheng University, Haiyang University, Tunghua University, Education College in Hualian, Yilan and Chungshan University.
The artworks were created by Falun Gong practitioners, through which the practitioners expressed their understandings of life and the universe. They also exposed the brutality of the persecution through those works.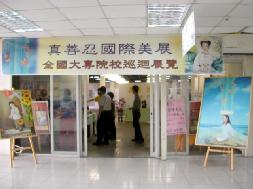 The "Truthfulness-Compassion-Forbearance" Art Exhibition
The art exhibition
The art exhibition
The "Validating the Fa" photo exhibitions were held in many cities and towns in Taiwan in 2005. 140 photos demonstrated the beauty of Falun Dafa and the spirit of Falun Gong practitioners. The photos were grouped into three categories: 1) Group exercises showing how Falun Dafa has spread in 80 countries, 2) The persecution and practitioners' clarifying the facts of Falun Gong, and 3) Feedback from society and proclamations from many governments.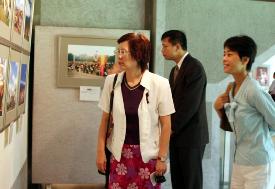 The photo exhibition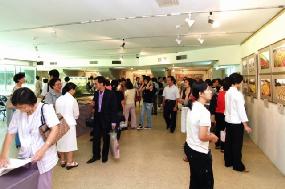 The photo exhibition
Young practitioners clarifying the facts about Falun Gong to children at the photo exhibition