Exposing the Evil Deeds of Perpetrator Sun Haibo from Changyi City, Shandong Province (Photo)
April 09, 2007 | By a Dafa practitioner in Shandong Province, China
(Clearwisdom.net) Sun Haibo was born in 1967. She is Deputy Chief of the Supervisory and Management Division of the Public Security Bureau in Changyi City. She lives at the residence compound at the custodial station in Changyi City. Her husband works at the Textile Machinery Factory in Changyi City. Sun Haibo is the main perpetrator who persecutes Dafa practitioners at the custodial station (re-named the Supervisory and Management Brigade) in Changyi City. In the past seven years, Sun has senselessly tortured Dafa practitioners and committed numerous crimes. She has been promoted and been taken advantage of by the Chinese Communist Party. Sun was awarded the title of "Advanced Official" several times. On March 2, 2007, Sun was again awarded by the evil Party, this time with the title, "March 8th Flag Holder in Shandong Province" and was one of the "Ten Excellent Female Police Officials." At present, Sun Haibo has been recommended as a candidate for the "National Excellent People's Policeman."
The following is just a little information about Sun Haibo's persecution of Dafa practitioners.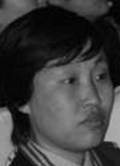 Sun Haibo from Changyi City, Weifang, Shandong Province
Torture of Various Kinds
Sun Haibo often instigated other inmates to put heavy shackles on practitioners. Practitioners' hands and feet were tied almost to each other and they couldn't straighten their backs. They could barely walk. While walking they had to lower their heads and their buttocks had to be kept high. The perpetrators didn't remove the shackles unless practitioners admitted they were wrong to practice Falun Gong. (When male inmates had these shackles on, they would feel extreme pain in their back soon after, and would not be able to look after themselves. They would have to be looked after when eating, going to bed and going to the toilet. In less than one day, the hands and feet would become swollen because of the weight of the shackles.)
Sun Haibo used a leather belt to savagely beat female Dafa practitioners. The feet of some practitioners were swollen severely and bruised as a result, and they were not able to put shoes on.
Sun Haibo instigated inmates to handcuff a female Dafa practitioner and ordered one inmate to pin her down and another to insert a big plastic tube (not the kind used in hospitals, and not disinfected at all) into her mouth. They then put a funnel-like gadget on the other end of the tube and poured food in. Some practitioners vomited mouthfuls of blood during these brutal forced-feeding sessions. Sun didn't even spare elderly or young practitioners from this torture.
Sun Haibo also had practitioners stripped and forced them to stand in front of her. She then sexually harassed them by touching their breasts. She even did this to practitioners who were having their menstrual period.
Robbing Practitioners of Money and Personal Items
Sun Haibo stole money and property from Dafa practitioners and took it as her own. She searched practitioners, and any money found she put into her own pocket. Sun quibbled, "Why don't you hand in the money voluntarily?" One practitioner was detained at the custodial station because of "clarifying the truth". Her child spent 200 yuan and bought a down coat for her as a New Year's gift. Sun forced the practitioner to take off the coat when she searched her and said that the coat was too new and would not be registered. She said that she would ask her family to take it home. But she wore it herself eventually.
Supervisory and Management Division of the Public Security Bureau in Changyi City: 86-536-7228752
The Public Security Bureau in Changyi City: 86-536-7211932